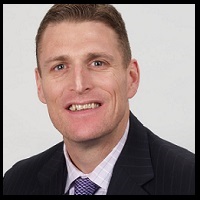 7 Benefits of Online Learning for IT Staffing Firms

As you're probably aware, more and more educational institutions and businesses are adopting online learning. This is largely due to the increase in affordable and easy to use technology on the market and a fast growing demand for an engaging learning experience (think Millennials). However, if your IT staffing firm has been utilizing traditional training methods (I.E. read the corporate handbook, shadow training and classroom training) than it may be daunting to even consider adopting an online training model. Just thinking about where to begin can be intimidating. In this blog I'm going to share with you 7 benefits of online learning for IT staffing firms. Before I dive into those benefits however I think its a good idea to first review your existing training curriculum and objectives before you can begin to think about making the transition to online training.
What is Your Current Training Curriculum and What are Your Core Training Objectives?
What current training materials do you have and why did you create those materials in the first place? Do your employees (sales and recruiting in particular) need the same skills today as they did when the material was originally created? Are those materials (strategies and tactics still effective in today's market place)? Has your strategy, target market or ideal buyer and ideal candidate changed since you last updated your training materials that would require your employees to develop new and/or more advanced skill sets? Have you launched (or do you plan on launching) new services that will require new or more advanced skills and subsequent training to develop those skills on behalf of your employees? Finally, have you updated your training content and course work to stay in tune and aligned with how your buyers buy and your candidates engage recruiters (do your recruiters or sales reps get their voice mail messages and emails returned?)
If you answered no to any of these questions than that could be a tell tale sign that it is time to reboot your training program to empower your employees with the necessary skills and information they need to thrive in today's market place. But you will only know by taking the time review your training material and assessing the effectiveness of sales team. By assessing your training program and objectives you can begin to move forward with a renewed sense of focus and purpose which will allow you to have a clear idea of what you need to include and what you need to leave out from your online training. Now let's talk about what sort of benefits you can expect to see from online training.
Learner Adoption is Faster, More Effective
Of all of the points that I'm trying to make, this one is probably the most important, and they're all important. If you are my age, when you were in school (and in traditional education) the teacher presents new learning material in a physical class room. Any class or lesson is typically taught over the course of a 50-90 minute period depending on the class. Do you remember sitting in class for that long? I do and I thought it was going to physically kill me! That is still a long time for anyone to have to sit and get lectured. All learning interaction takes place in-person. After that, it is up to the learner to read his or her notes and read the chapters they have been assigned as many times as necessary until they retain the information so that they can pass the exam. With online learning, learners can access training material, course work, exercises and quizzes through their smart phones, tablets, and computers whenever they want from wherever they want. More importantly, the training courses can be designed and delivered in small bite size pieces, not in 60 or 90 minute marathons. Prior to launching our online training and our Learning Management System I did live webinars that were 60 minutes long. Today, those 60 minute webinars are now broken down into six to ten individual videos, each lasting approximately 6-12 minutes in duration. The reason for this was to improve learner retention. You can have the best content in the world but if you employees don't retain it, it's useless. We've seen learners grasp the content far quicker with this change and as a result time to quota attainment accelerates.
Learning Content is Consistent, All Learners Learn the EXACT SAME THING
One of the challenges with classroom, instructor led training is ensuring the same consistent message is delivered and received. For example, I see many IT staffing firms share training duties. For example, Sandy runs the West region and John runs the East region. Whenever new hire training needs to be delivered they alternate who spends time at corporate to deliver the training for the new reps. When Sandy delivers the training she really likes to emphasize points A, B and C. John really likes to emphasize points D, E and F. And of course, they each like to put their own spin on things based on their own personal experiences and preferences. While this is all done with good intentions, what happens is you end up with a sales team of "X" number of reps taking a slightly different approach to the market place and sending out slightly different messages to the marketplace. While this may sound harmless, it actually does real damage in the way of company wide growth. You can read my infographic on how inconsistent messaging kills growth especially when you're trying to scale your business from $25M in revenue to $50M and eventually $100M and beyond.
With online learning you can rest assured that each learner will experience the exact same learning experience including the course material, quizzes and exercises. This in turn will make life much easier on your sales managers and recruiting managers. When your employees all go through the exact same training, it far easier and quicker to identify and diagnose the skill deficiency and then provide the necessary coaching. But when a manager has a team of reps or a team of recruiters who have all be trained slightly differently it becomes far more difficult and time consuming to identify and diagnose the skill deficiency and provide the necessary coaching.
Cost Effective
One of the biggest advantages of online learning is that it's more cost-effective and scalable than traditional in-person learning. A digital approach to learning removes the burden of coordinating schedules, printing handbooks, travel and lodging costs, and speaker fee costs. Oh and let us not forget, opportunity costs. There is a cost to taking your sales reps and/or recruiters out of the field and off phones and enrolling them in a full day or multi-day training workshop.
Ideal for Millennials
Studies show that online training appeals to Millennials and Generation Z because of features like gamification including badges, leader boards and certifications. Online learning is also appealing because it is interactive where team members can collaborate online through chat and video features. Finally, and as you probably already know,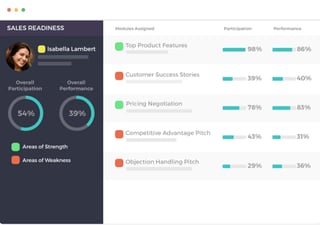 Millennials want feedback. They want to know where they stand (with their supervisor and relative to their peers). With online learning they can get just that. Online report cards like the one you see in the inset provide learners with quantifiable feedback as to how well they are engaged with and internalizing the training material.
Scalability
With online training you can train as many employees concurrently as you need regardless of location. If you rely on shadow training where your new hires shadow a top performer for a day or two you have to ask yourself, how many new hires can I expect my top performer to host at one time? The point being that shadowing simply does not scale.
Create Real World Scenarios
The reality of training, regardless of how much time you devote to creating your content and designing visually appealing graphics and illustrations is you just aren't going to deliver any value to your learners unless you incorporate real world scenarios in which your learners can practice applying what they learned within the context of their real life work experiences. For instance, if you train your sales reps on how to handle objections but fail to provide the scenarios in which they can practice applying what they were taught in the context of a real world objection than your trailing will have failed. Fortunately with online learning you can incorporate exercises, simulations and challenges that offer your employees the opportunity to practice how they would handle real world scenarios such as negotiating pay rate with a candidate or selling value and not price to the customer. Without this capability it is left to the manager who most likely is a player and a coach, to schedule daily/routine role play sessions. How consistently do your managers host and facilitate role-play practice sessions?
Learn Whenever, Wherever & Adapt to Various Learning Styles
Technology plays a huge role in our personal lives and our professional lives. People are constantly connected to their devices so rolling out and getting your employees to adopt online training is easy. Adopting online training gives your employees the freedom and flexibility to access their training material whenever and wherever they like. If I have learned anything from training thousands of sales professionals and recruiters, learning is a process and everyone learns differently and at different paces. Online learning allows learners to consume training at their own pace and to consume it as many times as necessary until they internalize it. They can pause it and repeat it whenever and as frequently as they like. Basically it is training delivered on the learners terms, not the instructors terms.
Those are just a few of the benefits of online training? What benefits have you experienced from online training? What benefits are you hoping online training can deliver for you and your team? Lets start a conversation in the comments section below.

About Dan Fisher
Dan Fisher is founder and owner of Menemsha Group, a provider of sales enablement solutions dedicated to helping IT staffing firms improve win rates, shorten their sales cycle, and increase revenue per sales rep. Since launching Menemsha Group in 2008, Dan has consulted with over 200 IT staffing firms and has invested over 5000 hours coaching IT staffing sales reps. He's authored is his own proprietary sales methodology and has previously spoken at Staffing World, TechServe Alliance and Bullhorn Live 2012. Prior to launching Menemsha Group, Dan spent 16 years in the IT industry running local, regional and national sales teams. Dan worked for Kelly Services, Oracle Corporation and Alliance Consulting. Dan currently resides in Boston, Ma.