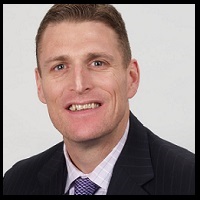 To Train Your Remote Workforce Adopt Sales Enablement Software
With the spread of the Covid-19 pandemic we've already seen businesses adapting to the "new normal" by instituting systems and processes that minimize human contact. We've especially seen this in the B2C world in which contact is minimized between workers and consumers, but also within the B2B world. With corporate America adopting a virtual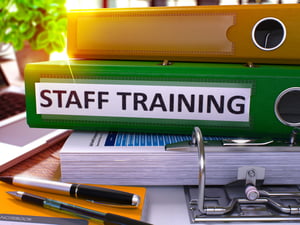 workplace and more employees working remotely, the Covid-19 pandemic has forced us to accelerate adoption of new processes and new technologies in areas such as contactless customer service, product delivery, order fulfillment, and robotic warehouse management.
Pulse, an online research platform home to 17,000 CIOs and tech executives, polled its community and found that:
Almost 70% of leaders believe that at least a quarter of their staff will shift to full-time remote work after COVID-19

Even with the lifting of restrictions, only 4%of leaders anticipate a full return to work right away.

84% of employers say they plan to enforce a 6-foot distance whenever possible, 64% of employers will take employee temperatures once back in the office, and 35%will employ a contact-tracing system.
These trends coupled with the continued persistence of the Covid-19 pandemic will only continue to push companies to adapt and innovate. Now more than ever, staffing leaders without a learning management system or sales enablement platform are wondering and asking themselves,
"How can we deliver virtual training for our remote workforce?"

"How can we upskill our current workforce while working remotely?"

"How will we onboard and train remote new hires?"

"How will we know if our new hires "get it" and will succeed?"
In this blog post, To Train Your Remote Workforce, Adopt Sales Enablement Software, I'm going to share with you some of the benefits of adopting sales enablement software and the key components to consider. I'm also going to highlight why there has never been a more opportune time for staffing firms to adopt technology that supports employee training, learning and development.
Sales & Recruiter Onboarding and Training Has

Never Been Easier
With the right employee training and development strategy-matched with the right sales enablement platform—enabling your sales and recruiting teams has never been easier and more data-driven than it is today. Selling and recruiting is challenging in this competitive marketplace, so recruiters and sales reps need quick and easy access to key information including training materials and customer facing content, and sales and recruiting leaders need an easy way to track and measure progress against key goals. This means sales enablement software is no longer a luxury but a necessity for every staffing firm.
What is a Sales Enablement Platform?
A sales enablement platform is a centralized online training solution for hosting your sales and recruiter training programs and content including the resources and data needed to help recruiters recruit more effectively and help salespeople sell more effectively. Your sales enablement platform enables you to continually assess, diagnose, and develop the knowledge, skills, and behaviors of your sales reps and recruiters, allowing you to measure knowledge, skills, and behavior capability. Perhaps most importantly, your sales enablement software delivers insights into what training works and identifies capability gaps in your employees.
A sales enablement platform does several important things:
Helps sales reps quickly and easily access training materials, product documentation, and other content

Encourages peer-to-peer collaboration for shared learning including sharing of "tribal knowledge" for remote workers

Records key metrics

enabling managers to identify skill gaps, behavioral gaps and knowledge gaps to provide and improve coaching

Tracks recruiter's and sales reps' progress against development goals

Enables micro-learning and virtual training to teach and reinforce key skills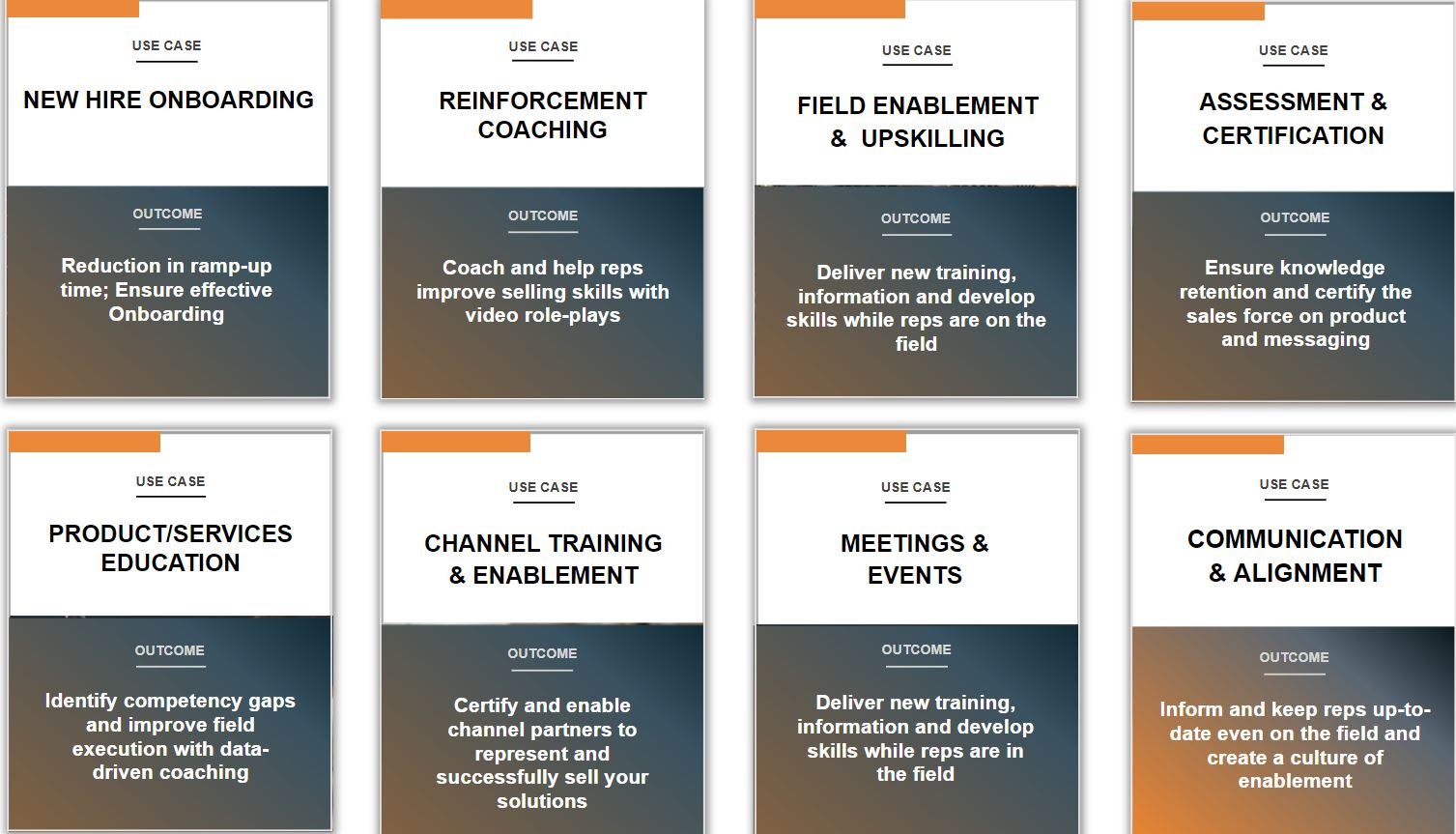 Staffing firms seeking a training solution to accommodate their remote and/or distributed workforce and improve the overall quality of their training program and drive learner engagement, should be on the lookout for the following key sales enablement software features.
Insights and Analytics
Very few staffing firms train their new hires or upskill their tenured employees without a way to measure those efforts. You need data analytics to understand what's working and what parts of your training program are not working or needs to be improved.
Organizations that have sales enablement software that provides detailed learner analytics for key metrics can quickly and easily identify and understand the effectiveness of their training activities including onboarding, continuous upskilling, coaching, and more. Additionally, they gain insights into the effectiveness of internal certification training, allowing them to see and hear which reps/recruiters are "conversation ready certified" and which are not. A well designed sales enablement platform offers transparency and understanding through tangible metrics that allow you to measure knowledge, skills, and behavior capability to ensure reps and recruiters "stay on message." Data analytics can also show how much time and money it costs you train each of your employees. If you find that costs are higher than you'd like them to be, you can take steps to reduce inefficiencies and improve productivity.
With data and insights from our sales enablement platform partner MindTickle, we are able to make data-driven decisions to improve our training initiatives, and develop specific skills development plans for individual reps and recruiters. For example, all sales organizations track closed deals won. With our sales enablement platform managers benchmark sales rep performance in the area of closing. After a training session on sales closing and additional 1:1 coaching designed to improve closing skills, managers tracks close rates and other related KPI's to see how a sales rep's performance changes. Based on those measurable results we are able to iterate the continuous training program accordingly and make it more effective.
In addition, your sales enablement platform can show you how much time and money it costs you and your organization to train and ramp up new hires and address skill gaps. If you find that your costs are higher than you'd like them to be then you can take steps to reduce inefficiencies and improve productivity. Remember, training and improving rep and recruiter performance is a continuous and iterative process. Neither shadow training nor classroom training allow you to do this.
Onboarding Management
Sales onboarding provides new sales reps and recruiters with the knowledge and skills training they need to ramp-up and hit quota on schedule. As you probably know, it can be a challenge to keep new hires engaged during the onboarding process. Even more challenging for staffing firms is tracking a new-hire's readiness (is my new hire equipped and ready to hit the phones? Do they consistently deliver the correct message? Am I confident they will be calling the right prospects/candidates? Can they successfully handle common objections and FAQ's?).
With onboarding management baked into your sales enablement software, managers have everything they need to set their recruiters and sales representatives up for success including:
Improving and accelerating adoption of new skills, and knowledge through automated training paths, all of which accelerates time to quota attainment

Ensuring better communication by keeping reps constantly updated and engaged, leading to higher productivity and reducing employee turnover costs

Enhancing coaching by leveraging the right tools and content that empower reps and managers to identify areas of improvement to achieve goals
Shadow training by definition is "winging it." There is no planning or program management with shadow training.
Gamification
As mentioned previously, keeping your new hires engaged is no easy task. It puts a strain on managers to balance their time between managing their team and all of their personal selling and recruiting tasks and responsibilities and supporting their new hire throughout the onboarding process. This is where gamification comes in. Through gamification, staffing firms can turn routine tasks into engaging activities that motivates and incentivizes recruiters and reps to develop their skills.
With gamification, teams can engage in friendly competition, consume bite-sized learning segments, consume relevant games and quizzes, and be introduced to real-life scenarios. Gamification can also add a social element to onboarding and training and promote open communication. Gamification can be used both by new hires going through onboarding and tenured employees who are consistently upskilling. It can assist them with continuous training and the fine-tuning of their skills, all in a fun environment.
Automated Workflows
Not only do automated workflows make it quick and easy to collaborate, but they also hold all people accountable. For example, having an automated workflow embedded into your sales enablement platform can enable managers and other team members to offer qualitative and quantitative feedback on audio or video recordings submitted by your sales reps or recruiters. By removing the manual task of physically setting reminders and meetings on your calendar and physically (virtually via video) meeting with your employees to engage in live role play, pre-defined workflows embedded into your sales enablement software automates this process, saving managers and learners time and provides a seamless feedback loop between managers and team members.
Having trained thousands of staffing industry sales and recruiting professionals on our sales enablement platform, we have found that automated workflows motivate managers, recruiters and sales reps to put in the time and effort and take their training seriously. Automated workflows offer complete transparency so that everyone knows where improvement is needed and everyone is driven to take action.
Content Management
Sales reps and recruiters depend on a variety of content throughout the sales cycle. This doesn't even include the content they need to learn new skills and knowledge or further improve their existing skills and knowledge. Content used throughout the sales process may include scripts, data sheets, product/service sheets, eBooks, white papers, case studies, analyst reports, competitor comparisons, email templates, presentations, and more.
The challenge with all of this content is organizing it so that your reps and recruiters can quickly and easily locate it and utilize it. A content management feature within your sales enablement software makes it easy for organizations to access and consume content. By enabling multiple people to collaborate in the content authoring process, whether it be in PowerPoint, pdf, or video, people are empowered to share their experiences and best practices for all to learn from.
A strong sales enablement platform will also help your managers track how your content is being used. For example, imagine if 70% of your recruiters started consuming a specific piece of content to support them in improving their submittal-to-offer-ratio and then over the next 90 days 40% of those recruiters improved their submittal-to-offer-ratio by 20 basis points. You could leverage that insight and the corresponding content to further improve your training effectiveness by asking all recruiters to become "conversation certified" in using that piece of content. By tracking how people actually use your organization's content, you can determine what content works and what doesn't. You can't do this with shadow training or classroom training.
Finding the Right Sales Enablement Tool/Software/Platform
If your staffing firm is in need of a training solution that supports your remote workforce and one that that engages learners, drives a high adoption rate among users, accelerates time-to-quota attainment and increases gross profit per rep/recruiter---our platform is a great option. It's equipped with everything you need to scale and replicate success, accelerate the sales cycle and improve sales win rates. Not only that, it comes equipped with all of our sales training and recruiter training content designed for staffing professionals.
Menemsha Group can truly transform the way your organization onboards, trains, sells, and recruits, enabling you to accelerate revenue growth and achieve repeatable, predictable revenue growth. Request a demo today to learn more, or determine your potential return on investment with our ROI calculator.