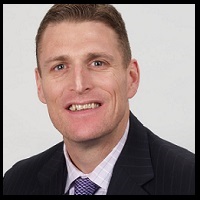 Three Benefits to Video Sales Coaching, Improving Remote Salesforce Performance
According to a survey conducted by HubSpot, 65% of sales leaders who outperformed revenue targets in 2020 reported having a dedicated person or team working on sales enablement efforts instead of making it a "side gig." As sales enablement continues to evolve, so too have the practices and supporting technologies. One such practice, one that was gaining traction Pre-Covid and has since exploded, is video sales coaching. With a remote salesforce, video sales (and recruiter) coaching has become a popular means for ensuring sales readiness for sales new hires and upskilling tenured sales reps.
We've all heard the adage, "a picture is worth a thousand words." Well, according to Forrester Research, a minute of video is worth 1.8 million words. The point being, so much more can be learned in a shorter time frame from watching a video vs. reading text. Video sales coaching shows not just what a sales rep or recruiter says but how they're saying it including tonality, confidence and competence, all of which impact how the customer receives the message. With video sales coaching, sales reps, recruiters and their managers can all see and hear what their customers and candidates see and hear. More importantly, they can all iterate and learn from it in a safe and controlled environment before a high-stakes conversation.
What Exactly is Video Sales Coaching?
The purpose of video sales coaching is to provide a quick and easy yet scalable way to validate that sales reps (and recruiters) are "conversation ready" and can stay on message. Not only that, video sales coaching enables your sales onboarding to produce predictable results. Video sales coaching is accomplished by giving salespeople video based practice exercises in which they practice delivering their message such as a cold cold, "elevator pitch," or rebuttal to a common objection. Typically the manager or sales coach will watch and review the video and provide the salesperson with quantitative and qualitative feedback. However, we have been witnessing a shift in which organizations are moving to peer reviews. This means salespeople review each other's video exercises. The reason being that data suggests salespeople-millennials in particular-prefer to learn from their peers.
Sales coaching and sales video coaching in particular has many benefits including training reinforcement, promoting best practices, time management and flexibility for sales managers, and sharing "tribal knowledge" which is more important than ever with organizations striving to improve the performance of their remote salesforce. In fact, a study from CSO Insights reports that formalized sales coaching leads to a 19% boost in sales productivity including double-digit gains in sales win rates and quota attainment!
Three Benefits to Video Sales Coaching, Improving Virtual Salesforce Performance
Management Flexibility
Perhaps the biggest benefit of video sales coaching is the time management and flexibility it affords sales managers and recruiting managers. Managers can interact with their reps up to 4X more with video sales coaching vs. conducting rep rides while spending only ⅓ of the amount of time doing it.
For example, imagine you have a sales rep who struggles with scheduling interview time slots when taking the client job order. Before the sales rep engages the customer in the client intake call (to take the job order) the manager sends the rep a sales video exercise asking the rep to role play the message before making the call. This gives the rep the opportunity to practice the message on video and receive manager feedback BEFORE making the actual call. Without video sales coaching and the ability to do all of this remotely, this interaction would likely never happen. Why? Most sales managers provide post sales call feedback in which they tell the rep what they did wrong and what they can improve upon. This is feedback and not sales coaching.
Not only does sales video coaching provide flexibility for the sales manager but it is especially effective because it is proactive in which the coaching takes place BEFORE the actual sales call.
Skill, Knowledge Certification
Video coaching makes it quick and easy to certify whether or not a sales rep is "certified" in his or her ability to execute a specific skill or demonstrate specific knowledge thus making your sales onboarding scalable. For example, in our sales training we teach salespeople how to open a sales meeting by speaking like an authoritative thought leader to quickly gain credibility with the customer. Doing so however requires the seller to demonstrate the use of specific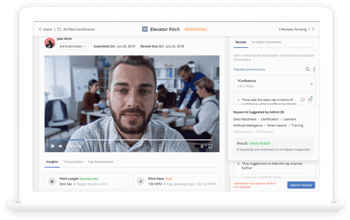 communication skills and to demonstrate an understanding of intimate knowledge relevant to the buyer persona. With video coaching technology we can create a use case scenario in which the salesperson is tasked with demonstrating (role playing) their ability to execute the requisite skills and relevant knowledge. By receiving quantitative and qualitative feedback, sellers can practice and iterate for continued improvement.
Promote Peer-to-Peer Learning
Sales reps are most receptive to learning from their peers. They want to see and hear how their peers deliver the value proposition, overcome difficult pricing objections and close deals. With video sales coaching and a sales enablement platform you can quickly and easily promote peer-to-peer learning by sharing videos for all sellers to learn from each other. For example, I have a customer where 80% of their reps work from the corporate headquarters but their top performer (along with a few others) works thousands of miles away in her home office in Orlando, FL. This sales rep only sees her peers once or twice a year at company-wide events. All of her peers wonder "what does she say, what does she do?" As you can imagine, they all want to emulate her. Emulating her wasn't possible until they started taking advantage of sales video coaching. Today, they capture her on video delivering the company value proposition, overcoming difficult pricing objections and other sticking points in the sales process and share it for the entire team to learn from.
Video sales coaching has become their SOP and best practice for how they replicate success and scale revenue growth. It is how they establish what "good" looks and sounds like and their salespeople love it!
A good sales coaching platform and video coaching is akin to using the Strava or Peloton app. You have a virtual coach who can view and review your performance and continuously encourage and support you to be the best you can be. Not only that, the coach is afforded the flexibility to provide the coaching feedback whenever and from wherever they choose.
Staffing firms should never underestimate the importance of sales coaching. Studies show that a blended training approach fostered and supported through reinforcement coaching can quadruple the ROI of training investments. In the end it is not the training that transforms reps into rock stars, it's the sales coaching they receive.
For more information about how to make successful sales onboarding repeatable and predictable, read our comprehensive step-by-step guide.