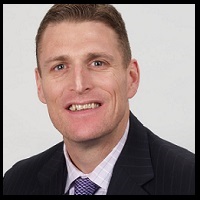 Recruiter Onboarding Reinforcement Plan, Six Best Practices
Staffing and recruiting industry leaders often ask me, "how can you ensure that recruiter onboarding delivers long-term results?" After all, hiring a new employee is like buying a new car; you invest your time, energy and capital recruiting and onboarding new recruiters but like that shiny new car, your investment can (and often does) quickly depreciate.
Without an effective reinforcement plan you risk implementing training that's viewed as "flavor of the month" — you impart knowledge on behalf of your team but your team fails to incorporate any of it into their daily recruiting motions.
Recruiter onboarding programs introduce new knowledge, techniques, skills and behaviors to your employees. A recruiter reinforcement program gives your recruiters the structure to implement, practice and strengthen those techniques and skills in a safe, simulated environment — ideally with consistent guidance from a subject matter expert, coach or manager.
Recruiter onboarding reinforcement helps recruiters translate their training from the classroom to the real world and convert their new knowledge and skills into long-lasting habits and effective behaviors.
To create permanent behavior change and protect your training investment, be sure that you're following your recruiter onboarding with a high-quality reinforcement program. Below we outline a recruiter onboarding reinforcement plan, six best practices to permanently shift the performance of your team and maximize your training investment.
Strategically Develop Your Reinforcement Plan
The forgetting curve tells us that learners typically forget new knowledge within days or weeks of training — unless they consistently review the material.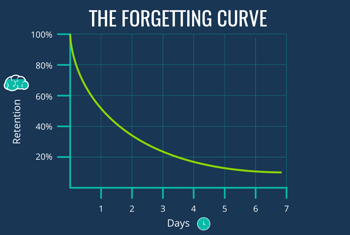 To give your training the best chance to succeed you need to begin by planning for reinforcement ahead of time.
To design your reinforcement plan, consider the Donald Kirkpatrick model. The key to success with any onboarding or training program begins with learner retention and adoption of the material. It's four assessment levels of training adoption will aid in guiding your thought process in terms of what skills, knowledge and behaviors you want to reinforce and how you want to reinforce each. The Kirkpatrick Model is a globally recognized method of evaluating the results of training, learning and development programs and should be part of your onboarding strategy and is the perfect precursor to calculating your training ROI.
Download Now: 7 Keys to Effective, Efficient Recruiter Onboarding
Reinforcement Coaching and Application of Coach Cards
A sound recruiter onboarding reinforcement plan includes regular opportunities for recruiters to review key concepts during pre-planned coaching sessions with their manager and/or coach. Ideally, the manager or coach should prepare in advance the topics to be discussed including the specific questions they will ask the recruiter, and the exercises they will engage in to practice applying the skills and knowledge. The coaching plan should be incorporated into a coach card. The coach card provides a place for the coach or manager to document the coaching session including how effective or ineffective the recruiter was in applying the subject matter discussed. The coach card also provides an opportunity for planning the next coaching session.
It is this active coaching-NOT THE TRAINING-that cements newly imparted skills and knowledge into permanent behaviors and habits.
Finally, it is key that you communicate to your employees that the reinforcement is a mandatory part of their onboarding . In most cases, recruiters will appreciate post-training coaching, as it allows them to practice applying their new skills in a safe environment.
Reinforce in Small, Bite-Size Pieces
For most recruiting leaders, it is natural to want to coach and reinforce EVERYTHING a new recruiter must learn in one coaching session. This is FOOLS GOLD. Don't fall for it. When you try to pack too much into one coaching or training session you overwhelm the learner. For example, if you are trying to coach and reinforce upon a brand new recruiter what a Java Developer does and market pay rates and you're also trying to teach them how to handle common candidate objections like "what does the job pay" or "can you just send me the job description," you're stunting their growth and delaying their development.
To avoid cognitive overload and confusing your new recruiter we suggest you break it down into small bite size pieces. For example, you will need to dedicate an entire coaching session or more to coach and reinforce what a Java Developer does. Then you will need to dedicate another coaching session to reviewing market rates until you are confident your recruiter can speak confidently about market rates. Next, you dedicate a coaching session to objection handling. Finally, you have a coaching session in which you focus on putting all three together.
Less is more.
Pop Quizzes Check for Recruiter Readiness
Pop-quizzes are a great way to periodically test and reinforce what your recruiters and sales reps have retained. We have found that scenario based questions that force your recruiters to think through which skills, knowledge and approach is best for the situation most effectively tests a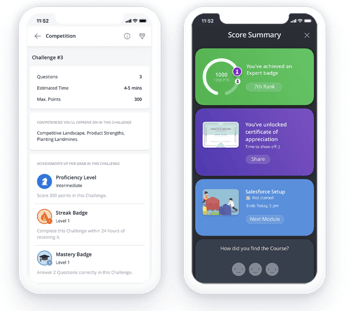 recruiters ability to recall and apply what they have learned. We also suggest that you include an explanation of the correct answer for each quiz question because this enhances knowledge retention.
The Menemsha Group enablement platform offers eight different types of quiz questions which makes this quick and easy to implement, and provides you with data highlighting how your recruiters and sellers performed on each question. For example, you can use a multiple choice question to test their knowledge of your value proposition or label matching to test their their understanding of your recruitment process. Just as importantly, we are able to deploy it via our mobile app which makes it quick and easy for learners to participate.
Reinforce Training With Experiential Learning
Experiential learning simply means "learning by doing." According to the latest research, learners retain 75% of what they learn by doing, compared to just 5% of what they hear or 10% of what they read. Role play is a perfect example of experiential learning. Many recruiting firms and their managers engage their team members in some form of recruiter role play. But very few do it consistently.
Modern recruiting firms not only incorporate consistent experiential learning exercises into their onboarding and recruiter reinforcement plan but they also apply evaluation parameters that describe the standard in which the knowledge, skill or behavior of the individual is evaluated. For example, evaluation parameters for pitching a candidate an opportunity might include intelligent positioning, voice tonality, confidence, and credibility. The recruiter is evaluated on a scale of 1-10 for each parameter.
Spaced Reinforcement
As a recruiter, sharing information about the employer (client), the job opportunity, market rates and employment trends boosts credibility and adds value in the eyes of the candidate. This in combination with the skills and behaviors to effectively convey that knowledge elevates the recruiter to "trusted advisor" and can greatly influence the candidate experience, candidate satisfaction, revenue, and brand value. But with the Forgetting Curve working against them, candidate-facing recruiters have a more difficult time retaining information to be seen as a credible authority and attaining that "trusted advisor" status. Spaced reinforcement has emerged as a critical capability to overcome this dilemma.
Spaced reinforcement leverages microlearning coupled with spaced repetition, retrieval practice, coaching, and personalization as well as gamification and smart notifications to promote knowledge retention. Leveraging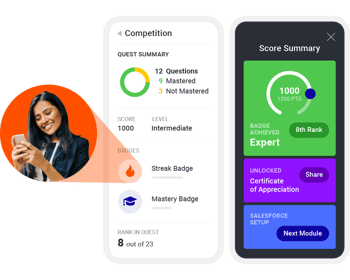 these mechanisms that are automatically delivered at intelligently spaced intervals, helps recruiters build their proficiency levels so that they can retain more information and speak with more confidence, credibility, and authority. More importantly, recruiting leaders gain insights into the improvement of their recruiters across a set of competencies.
You can provide your recruiters
with fun, easy, gamified exercises on an ongoing basis to help them
absorb and retain what they learned so they can consistently apply
their knowledge and skills in candidate conversations.
Recruiter onboarding reinforcements foster a culture of continuous improvement and knowledge sharing that reduces the knowledge decay from the Forgetting Curve. As a result, recruiters bring greater value, share more meaningful insights, and address challenges for their candidates — all leading to more closed deals, revenue, improved candidate experiences, and greater brand value. To learn more about recruiter onboarding, check out our ebook, The Seven Keys to More Effective, Efficient Recruiter Onboarding.