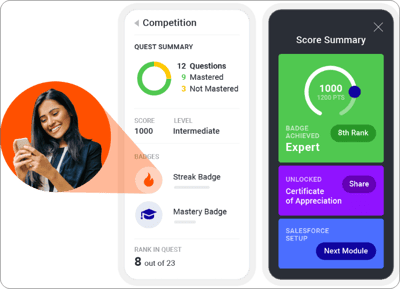 Much of this guide addresses the type of content you should include in your training program for new recruiters. But first, we'll address how to deliver that content.
Five modern technologies make training content quick and easy to create, absorb, and access.
Mobile Devices
Your recruiters — like everyone else — carry their smartphones with them throughout every waking hour. By making your content mobile-friendly, you can make it easy for your organization to meet your recruiters where they live and work.
Video
The human brain processes visual information 60,000 times faster than it does text. Video is the quickest and easiest way to replicate winning behaviors across your recruiting organization.
Artificial Intelligence (AI)
The days of each employee needing to learn the exact same material as every other employee are a thing of the past. AI can personalize content to suit the needs of each learner, focusing on their individual skill and knowledge gaps. AI recommends suitable content to the individual learner based on past behavior and performance.
Peer-to-Peer Learning (Social Learning)
In the peer-to-peer learning model (also known as social learning) new recruiters, managers, support staff, and leaders' ability to quickly and easily create and share video content from their mobile device opens new ways for collaboration throughout a distributed recruiting organization.
Subject matter experts, senior leaders, recruiting managers, and top-performing recruiters across vertical domains and geographical locations use these technologies to contribute to the learning experience.
Microlearning
Microlearning (which includes animated microlearning videos) is a learner-centric approach that delivers just-in-time training via devices such as computers, tablets, and smartphones.
Microlearning appeals to learners by allowing them to define their learning paths.
Microlearning is personalized and flexible, two ingredients all learners, especially millennials, covet. These aspects ensure that training can be easily accessed, quickly completed, and applied by the learners.
Finally, microlearning is agile and can be used to create "sticky" learning experiences that help overcome the "forgetting curve."