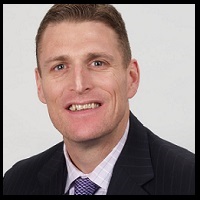 Guiding Principles for an IT Staffing Sales Training Program
Last month I had the opportunity to host a workshop for the Massachusetts Staffing Association. I covered a wide array of topics but the overarching theme was on principles for building a sustainable and scalable sales culture for staffing firms.
In my discussion with the group, much like the discussions we hear and encounter across the country,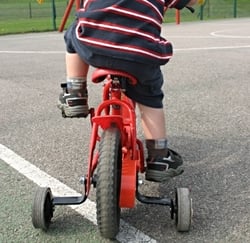 leaders of IT staffing firms are finding it a challenge to hire, on-board and effectively "ramp up" and retain new hire employees.
In this article, guiding principles for an IT staffing sales training program, I'm going to share tips and ideas for building, implementing and supporting your IT staffing sales training program including the benefits of online sales training and onboarding. All of which will help you more effectively hire, on-board, train and retain your employees.
The Benefits of a Sales Training Program
When designed, implemented and reinforced properly, sales training programs can lead to huge improvements in sales performance. To accomplish this however, you need a well designed and strategically thought out program that addresses all levels of training needed by the sales rep.
According to research conducted by the Brigade group, a sales strategy firm based out of Hudson, Massachusetts, only 50% of sales reps achieve quota. Effective reps however consistently hit quota which makes it easier for you to predict performance including quota and revenue achievement, as well as sales forecasting accuracy.
The key to unlocking sales performance and achieving this consistently is to invest in increasing the overall effectiveness of or your organization. Perhaps you have heard me talk about this in the past. Simply "doing more" or telling your reps "get more meetings" is not effective or an effective strategy.
Sales Process and Sales Training Go Hand and Hand
One of the most common reasons we find IT staffing firms struggling to effectively on-board, ramp-up and retain new hires is because they have no formal sales process in place.
The more mature your sales process, the more effective it will be on a consistent basis. The "sales maturity" of a sales organization is directly reflected in the sales rep's ability to move a sales opportunity through each stage of the process. If your sales process is loosely defined and/or monitored and measured infrequently your sales reps will struggle. Even worse, you will have a difficult time scaling your business for long-term growth.
As you read through the descriptions, you may recognize stages your organization has experienced in the past, and you may see stages you aspire to reach.

An effective sales training program should be constructed around the sales process of your company. Salespeople understand best in context to something they can relate to. Your sales training program should align with the steps of how you sell your IT staffing services and align with your customer's buying journey-how they engage sales people and the steps they must complete in their buying process.
Online Sales Training
With today's ultra-competitive IT staffing industry and evolving customer demands we know that a static pitch deck, CRM/ATS training and/or a "one week boot camp" is not going to cut it when it comes to effectively training and on-boarding new hires. Simply put, sales people will not succeed with that type of training. I know this for a fact because I have had this conversation with hundreds of IT staffing leaders across the country.
online sales training including the use of a cloud-based platform with intuitive real-time authoring and publishing enables you to not only ensure the learning material is easily accessible to your sales team at all times, but also track which of your sales reps have completed their training, and at what proficiency levels. Online learning has been around for years yet very few in the industry seem to be taking advantage of its benefits. What I have learned from designing and deploying the Menemsha Group sales enablement platform is that it can truly transform your existing sales training assets (documents, case studies, materials) into engaging training modules and take the whole process up a notch. More importantly, it just works. Learners retain information quicker which means accelerated ramp up time and time to quota attainment.
Additionally, an online training platform can save the day for geographically-distributed sales teams. Let's say you wanted your existing sales reps to learn about a new kind of sales best practice or a new job aid. You can simply create videos and documents and then upload them to your intranet. But how do you know your salespeople have actually gone through the material? More importantly, how do you know your salespeople have actually internalized the content? You don't. You're leading them to water but you don't know if they're drinking it.
With a cloud based online training platform you can use quizzes and other assessments to ensure they truly have assimilated the knowledge they need to hit the ground running. Most importantly, it allows your training program to be infinitely scalable, showing the way to any number of people who need it – whether you have a sales team of 5 or 5,000, everyone can gain from the program without making a linear demand on your time.
Software Gamification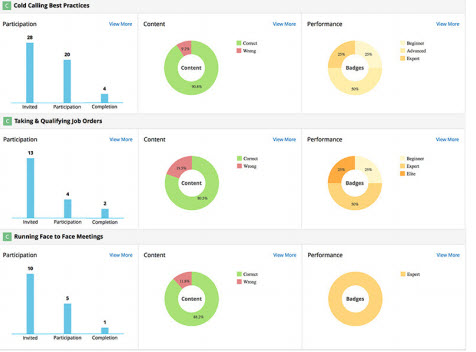 Software gamification is an effective means for training reinforcement because course materials and content can easily be accessed during and after the training whenever and wherever needed by the sales reps. This also ensures that you are both standardizing the knowledge transfer and reinforcing the same, consistent message and desired sales behaviors (a common reason sales training fails is many firms leave this step up to "shadow training" which often sends mixed and inconsistent messages that are not in alignment with the sales training, sales process, desired sales behaviors and intended results). Remember, your sales training is only as effective as to the extent to which it is assimilated into your daily sales process and actively monitored and measured. If, two weeks after your training your salespeople have already forgotten 80 percent of the training you are losing out on a huge opportunity!
Gamification of your sales training encourages the learners to engage with the content in different ways. It creates healthy competition and rewards desired behaviors, encouraging them to repeat those behaviors and enables sales reps to retain more information. By using gamifcation elements such as badges, levels, challenges, or leader boards you can motivate your sales team to actively participate in sales training activities, collaborate on relevant topics and share best practices.
Why Software Gamification?
Why go through all of the effort to incorporate software gamification into the training? By nature, sales people are competitive. It's woven into their DNA and an intrinsic personality trait that comes into play whenever it's time to compete. By using a cloud-based gamified sales training program, you connect their intrinsic motivation to your training goals, and thus to your business objectives. By tapping into their psyche, you can achieve a more satisfied workforce as well as improved sales results and improved sales effectiveness.