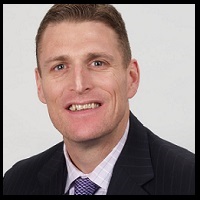 Your Guide to Understanding the Sales Pipeline
"How's your sales pipeline looking?" "Are you ready for the pipeline review meeting?" "What did you add to your pipeline this week?" All this talk about sales pipeline but what does it really mean and why is it so pivotal to sales success?
In this blog series you'll learn everything you need to know about the sales pipeline including the definition of a sales pipeline, sales pipeline vs. sales forecast, sales pipeline vs. sales funnel, defining the stages of your sales pipeline, how to determine your optimal pipeline size, managing the pipeline, common pipeline mistakes and pipeline metrics.
The Definition of a Sales Pipeline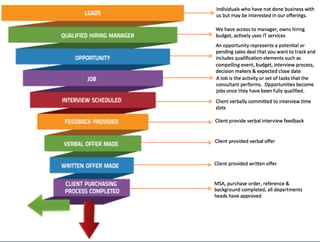 Your sales pipeline encompasses every stage of your sales process. Sales opportunities should move down the pipeline (funnel, more on this in a minute) from stage to stage of your pipeline based on the client completing objective and verifiable milestones. This progression should be visually represented in your CRM. Because sales processes differ based on what you sell (and even product to product and service to service such as VMS vs. non VMS business), the stages of your sales pipeline should be unique and reflect the buyer's journey and how they procure your service and hire a consultant.
Each opportunity will move through your sales pipeline at a different pace depending on the customers compelling event, level of interest, urgency, budget, authority to buy and other factors. Some prospects may not even need to complete each stage that you have in your sales process. The point is, having a sales pipeline with a sales process to follow will tell you if you are going down the right path or not. In fact, here are seven signs that prove your sales process is working.
Sales Pipeline vs. Sales Forecast
Many folks often confuse the sales forecast with the sales pipeline. Your sales pipeline highlights every opportunity a sales person is pursuing regardless of the age of the opportunity and anticipated close date. A sales forecast on the other hand is simply an estimate of which of those opportunities are expected to close within a specified time frame.
Sales reps (should) use their sales pipeline to keep track of and update their opportunities. The specific definitions for each stage should be prompting the rep with the corresponding actions they need to act on in order to compel their prospect to complete the next step in their buying journey or purchasing process. This is where sales pipeline coaching by managers comes into play as well.
A sales forecast on the other hand highlights how accurately you can predict sales results. Your sales forecast reflects how accurately sales leaders and sales reps are tracking against their sales goals or sales quota and indicates how well a sales reps truly understands their customers and their opportunities. The sales forecast allows sales organizations to prepare accordingly. For example, if your sales forecast anticipates you're going to miss your quota, then it is telling you that you probably need to increase your sales activity by either adding additional opportunities to the top of the pipeline or move existing deals down the funnel.
Sales Pipeline vs. Sales Funnel
People-myself included and guilty as charged- often use "sales pipeline" and "sales funnel" interchangeably. But there is a difference. The metaphor "sales funnel" suggests that many of the prospects that enter the top of your pipeline will slowly drop off as you progress through the stages of the sales pipeline. This sales funnel metaphor suggests that you need 2X or 3X more prospects at the top of your pipeline as you do at the bottom. But if you read my blog, How To Fix Your Six Figure Problem, Your Sales Metrics, you will realize that if you excel at qualifying suspects BEFORE they go into your pipeline, you will not need 2X or 3X more prospects at the top of your pipeline as you do at the bottom. After your suspects pass they critically important qualification stage, your qualified prospects or qualified hiring managers should eventually become a client one day.
Research has showed that top performing sales reps have an opportunities to deal ratio of 1.5x to 1 in their pipelines. For every deal they close they have 1.5 opportunities in their pipeline. That is what I call sales effectiveness! Before you assume you can operate at that level of efficiency I suggest you figure out what your historical sales win rate has been and work backwards from that number.
How to Build Your Sales Pipeline
Here are the basic steps to building a sales pipeline:
Define the stages of your sales cycle.
Determine your conversion rates by stage.
Reverse engineer (work backwards into your sales quota) to calculate the number of opportunities you need at every stage to hit your sales goals
Identify the commonalities across the job orders or opportunities that convert at each stage --both actions the rep takes (like sending a follow-up email) and action items the client commits to (agreeing to interview time slots, signing the MSA).
Configure your CRM/ATS around these action items and events
Now that you have an overview of the process, let's dive into the specific steps.
Sales Pipeline Stages
The stages of the pipeline must match your prospect's buying journey to effectively help you track progress and predict revenue. The illustration below highlights at a high level the basic stages of the buyer journey and how and when they (prefer) to engage the sale rep. The bottom half of the illustration highlights what actions the sales rep takes within the buyer journey.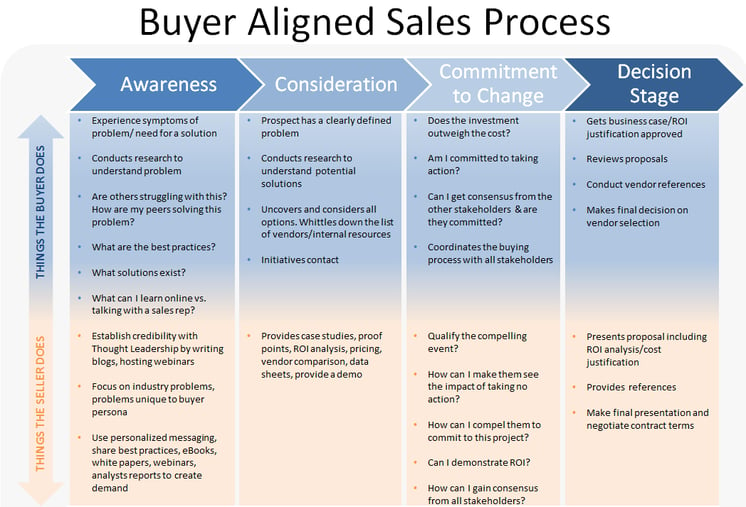 The stages to your sales pipeline and the process sales reps follow might look like the example below.
Engage: The buyer engages with your company via email, trade show, web site
Qualify: The buyer agrees to a phone conversation to determine solution fit (qualify the buyer)
Discovery Meeting: They committed to a face to face meeting. They committed to meeting again to further the discussion.
Received Qualified Job Order: The buyer is interested in using your service to solve their problem. They give you a qualified job order.
Interview Time Slots Confirmed: The buyer commits to interviewing your candidate and providing feedback.
Hopefully this gives you the idea but the more complex or more buyers involved in the decision making process the longer your sales cycle which means additional stages to your sales pipeline.
I suggest you study the deals that you have won and analyze on average how much time a customer needs to spend in each stage before committing to the next step. Having access to this data and possessing this level of understanding will help you identify and predict which job orders are most likely to close. Understanding this data your sales leaders and sales reps identify which job orders are mostly likely to close.
I also suggest you establish close probability percentage by stage. You may discover that when a client does a 2nd interview 70% of those job interviews close. By assigning close probability percentages to each stage you can begin to develop monthly revenue and gross profit targets.
How do you define sales pipeline? Do you differentiate between sales funnel and sales pipeline? How confident are you in your ability to accurately forecast sales? Let's start a conversation in the comments section below.

About Dan Fisher
Dan Fisher is founder and owner of Menemsha Group, a provider of sales enablement solutions dedicated to helping IT staffing firms improve win rates, shorten their sales cycle, and increase revenue per sales rep. Since launching Menemsha Group in 2008, Dan has consulted with over 200 IT staffing firms and has invested over 5000 hours coaching IT staffing sales reps. He's authored is his own proprietary sales methodology and has previously spoken at Staffing World, TechServe Alliance and Bullhorn Live 2012. Prior to launching Menemsha Group, Dan spent 16 years in the IT industry running local, regional and national sales teams. Dan worked for Kelly Services, Oracle Corporation and Alliance Consulting. Dan currently resides in Boston, Ma.