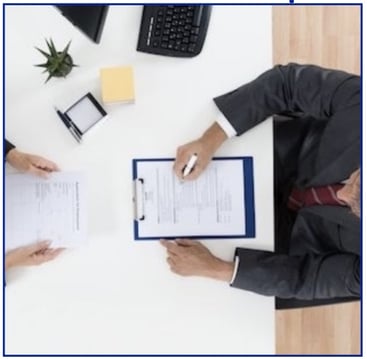 Building and adopting a buyer aligned sales process accounts for the fact that different buyer types buy differently, and that sales professionals must be aware of and adjust their approach accordingly. To that end, the first step in building a buyer aligned sales process begins by interviewing your ideal target customers.
Your ideal target customers could be IT hiring managers, Human Resources's professionals or Procurement professionals. In fact, your ideal target customers could be all three, depending on the services that you sell.
Whomever your ideal customers are, you will need to interview them to uncover the specific steps and tasks that they must complete, and the decisions that they must make in order to buy your services.
This includes understanding their budget approval and funding process, their legal and contract approval process, and any other approvals and decisions that must be completed before they can purchase your services and hire your candidates. You should be able to assemble all of this information and sequence it into a timeline of events.
As a general rule, each ideal target customer persona will generally have the same buying process.
For example, if you sell primarily to Procurement professionals, than in general whenever selling to Procurement professionals, their process for how they buy from you will be the same from company to company. There will be some nuances but in general, it will be the same.
However, if you also sell to IT hiring managers than the sales process will be different than if you were selling to Procurement. You want to map out a buyer aligned sales process based on how each of your different ideal target customers buy.
You do NOT want to have one common sales process for all buyer types since they all buy slightly differently.
Finally, if you sell multiple products or services than you will likely need to map out a unique sales process for each. Your customers may not follow the same buying process for each service or product you sell.