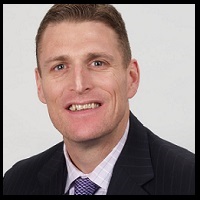 Why Salespeople Must Understand The Buyer Journey
I think it goes without saying that in this day and age, buyers don't want to be pitched to or feel like they're being sold to. This old school sales approach offers zero value to the buyer. Instead, I think most sales professionals strive to be consultative in their approach. But what does that really mean? I think being consultative implies that the salesperson: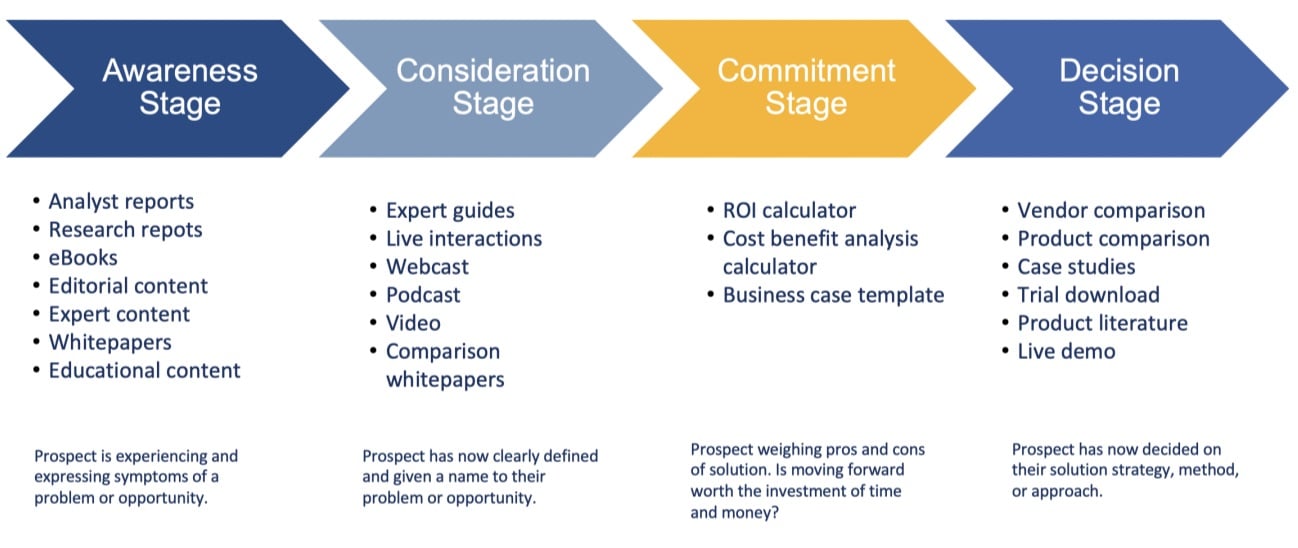 Is always coming from a place in which they're genuinely trying to help the customer achieve a goal or solve a problem

Shares highly relevant ideas and insights to help the customer

Asks inquisitive, thought-provoking questions

Educate and even challenge the customer's thinking
The first step for salespeople to engage in and exemplify consultative selling behaviors begins with understanding your ideal buyers and the buyer's journey. As I noted in my blog, sales onboarding nailing the first thirty days, I touch on why salespeople must learn their buyer's journey within their first thirty days of sales onboarding.
In this blog post I'm going to go into more detail on why salespeople must understand the buyer journey and why it must be a part of your overall sales enablement program.
What is the buyer's journey?
Not familiar with this term? The buyer's journey is the process buyers go through to become aware of, evaluate, consider, commit to and purchase a new product or service.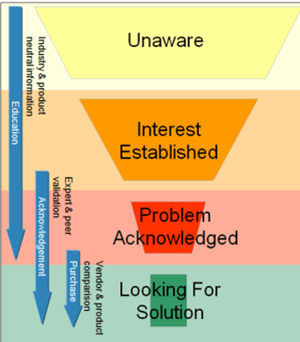 At a high level, the buyer progresses through four stages:
Awareness Stage: The buyer realizes they have a problem to solve or a goal to achieve
Consideration Stage: The buyer defines their problem and considers their options for resolving the issue
Commitment Stage: The buyer must decide if they are commitment to making the change
Decision Stage: The buyer makes a final decision and picks a solution or vendor
How Do You Define Your Buyer's (IT Hiring Manager) Journey?
If you have never hired an IT consultant or an IT staffing firm than I suggest you interview a few customers to understand how they go about selecting a vendor and hiring IT consultants.
Never in my life have I hired a sales training company or sales consultant. To better understand how my buyers (owners of IT staffing firms) would go about investing in an external, third party sales training program I hired a marketing company to interview a few of my customers. Let me just say that is was enlightening! Here are some of the questions they asked my customers (buyers):
What are your specific sales goals?

What are the biggest challenges you face with your sales organization?

How do you educate yourself on overcoming these challenges? Achieving these goals?

What are the consequences of taking no action?

How are you measured in your role?
The answers to these questions and many others has provided me with the ability to see things the way my ideal customers see things. This insight has enabled me to tailor and personalize my messaging to my ideal buyers based on the stage of their buying journey. Here is how you can do the same.
Awareness Stage
During the awareness stage, buyers start to experience symptoms of a challenge or issue in their business or a goal they want to pursue. They start to research their issue (or goal) to understand it at a deeper level. They research how their peers are solving these issues and what potential solutions might exist. They also start to give consideration to whether or not solving this problem is a priority for them.
What type of information or content do you think your buyers would be interested in when in the awareness stage?
Consideration Stage
During the consideration stage, buyers have clearly defined their challenge or goal. Now they begin to research and consider solutions or approaches to pursue the goal or solve their challenge. In the world of IT staffing they might consider the following:
Can I solve this problem with internal staff?

Can I reorganize my team to address this issue?

Should I outsource this work?

Should I hire a consultant?

Should I hire an FTE?

Is there software that can resolve this issue?
I suggest you consider the following questions:
What categories of solution providers or vendors would your buyers research or investigate?

How do your buyers educate themselves on these categories? Where do they go, what do they read, who do they talk to?

How do your buyers perceive the pros and cons of each solution or vendor type?

How do your buyers arrive at a final decision on the vendor type?
Commitment Stage
During the commitment stage the buyer is deciding whether or not pursuing the goal or solving the issue is worth the investment. Additionally, they are also assessing whether or not they (and others who will be impacted by the solution) are committed to making the change (leaving the status quo). They have to consider whether or not they can get others stakeholders to buy in and commit to change as well begin to coordinate the purchasing process.
What message or type of content do you think would be helpful for your buyer when trying to decide whether or not pursuing a goal or solving an issue is worth the investment?
Decision Stage
During the decision stage, buyers have already decided on the solution or vendor category (can I fix this with internal resources or must I go external for a solution and if so do I go staff augmentation, fixed fee, etc.). Now they are compiling a list of vendors and trying to narrow it down. They're reviewing proposals and conducting customer reference checks.
During this stage of the buyer journey, what content and messaging do you think your buyer needs to see and hear to not only make a decision but to select you and your solution?
Why is Understanding the Buyer Journey So Important?
As you can see, in order to help your customer and be truly consultative throughout the process, you need to provide the relevant content and relevant messaging based on the stage of the buyer journey. Imagine calling a prospect and skill marketing a candidate only to realize your prospect is in the awareness stage? Not only does that message fall on deaf ears but it fails to add value and demonstrates the salesperson is self serving. Understanding the buyer's journey impacts how you view the sales process and forces you take a consultative sales approach.
To learn more about consultative selling, download our eBook, Your Guide to Mastering Consultative Selling.