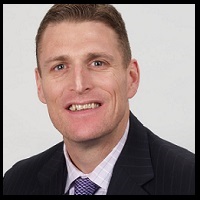 Understanding Sales Enablement, Role, and Value in Digital World
To understand the importance and value of sales enablement, it is important to first understand why it has come into existence, and why so many - from startups to Fortune 500 organizations - have adopted enablement as a formal, strategic business function.
Research from CSO Insights shows that the percentage of companies achieving revenue targets has dropped by nearly 4% over the past five years. Over that same period, new hire time to quota attainment has increased from six months to nine months. A study from Forrester Research shows that from 2011 to 2019, quota attainment per rep fell from 63% to a dismal 43%!
The Pareto principle — the notion that 20% of sellers generate 80% of the revenue - has put revenue leaders in a bind. The reality is, organizations have accepted mediocre sales performance for years. CFO's have hardwired the 80/20 rule into their financial planning. And it doesn't stop there; the 20% we've relied on for so many years to make our number is shrinking.
Why is Selling Today So Difficult?
For the past several years, companies have embarked on digital transformation journeys to counter the potential for disruption from incumbent competitors and startups. As a result, selling has become, and will continue to be more technology driven, forcing sellers to engage buyers through technology.
Digital transformation is about changing the way a business engages with its customers and how they provide their customers with a consistent and meaningful experience whenever and wherever they prefer. Today, customers expect (from salespeople) relevant content in relation to what they're doing and thinking anytime, anywhere and in the format and on the device of their choosing. It's their journey that dictates your strategy.
For these reasons, desirable sales skills are shifting away from soft skills like relationship building to include harder skills like data analysis, business acumen and writing skills.
According to research by Harvard Business Review, three-fourths of employees say their existing training and knowledge functions are inadequate for their needs and a study from McKinsey found that 87% of executives find readiness gaps in their organizations.
Other, micro-level trends disrupting sales success include:
Buyer Expectations: Strong product and market knowledge is no longer good enough. Buyers expect salespeople to educate them on their business and offer fresh ideas and insights to help them solve their problems and achieve their goals. This requires knowledge and skills that most organizations are not equipped to provide.
Multiple Buyers: Research shows the average buying team includes 6.4 buyers. Research also shows that these teams are made up of buyers from a wider range of disciplines. Sellers need to learn to manage a larger number of buyers and identifying their unique challenges
Increasing Formalized Buying Process: As the size of the deal grows, the buying team grows and the business tends to follow more formalized processes.
Political Business Driven Decisions: The percentage of customers requiring an ROI analysis has gone from a five-year average of 40% to 61%.
Combined, these factors are leading to longer sales cycles. In fact, 60% of sales cycles with new customers have increased by 21%. Salespeople and sales organizations will need to learn to adapt their approach to these longer, more complex sales cycles.
The bottom line is today's sales organizations are not keeping up with the pace of change. A new approach is needed to effectively support and enable sales professionals to keep up with changes in buyer behavior, digital transformation and ever-changing market dynamics.
What is Sales Enablement?
Sales enablement is the strategic, collaborative discipline of continuously providing consistent and scalable tools, content, training, and coaching that enable customer-facing teams to successfully engage and convert buyers during each stage of the buyer's journey. Sales enablement is less about sales and all about the customer.
Sales enablement is a strategic discipline. It is not a one-off project with a start date and end date, nor is it assigned to someone to take on as an ancillary or part-time task. A sales organization is the revenue engine for all organizations. Therefore, it only makes sense that enabling salespeople takes the highest priority.
Sales enablement is strategic because it is designed to align with and support your go-to-market strategy.
Sales enablement is highly collaborative. Enablement professionals must orchestrate the process of creating and delivering enablement services (tools, content, training and coaching) by enlisting others in the organization such as marketing, recruiting, sales operations and executives. Cross-functional collaboration is key.
Sales enablement must be scalable, ensuring the tools, content, training, and coaching is consistent for all customer facing professions, whether it be an organization of 10 or an organization of 10,000.
Finally, sales enablement is consistent, continuous, and ongoing for several reasons, which I will cover in a bit.
World Class Selling
World class selling is predicated on understanding the customer including buyer personas, the buyer's journey (and where the buyer resides), how buyers think, and how & why they buy. Sales enablement is about enabling customer-facing teams with tools, assets, training, coaching and value messaging that have all been designed to help buyers make buying decisions.
The illustration below depicts the buyer's journey, and the buying experience today's educated buyer expects.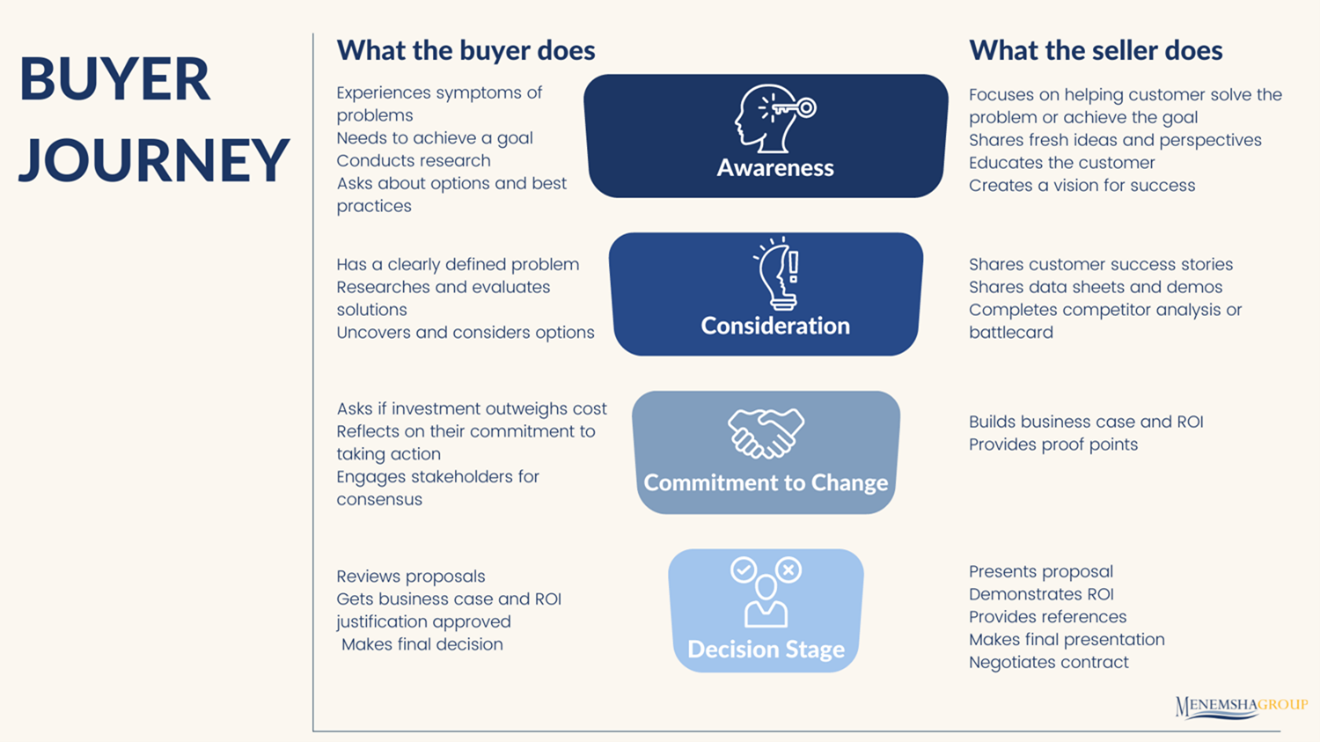 Now ask yourself, are your salespeople enabled with the tools, content, training, value messaging and coaching they need to engage your ideal buyers across each stage of the buyer's journey? Are they enabled to convert buyers from one stage to the next?
For most organizations, the answer is no.
Because sales enablement is predicated on enabling salespeople to engage and convert their ideal buyers, it is critical that salespeople be provided with the resources the buyer wants. Sales enablement content comes in two forms:
Customer Facing Content.

This is content that salespeople share with their buyers to engage, educate, and shepherd them through each phase of the buyer's journey.

Internal Facing Content:

This includes sales playbooks, tools, scripts, and templates that support salespeople in engaging their buyers across each stage of the buyer's journey and highlight what to know, what to say, what to do, and what to show. This is the content that enables sellers to compel buyers to take action.
Additionally, salespeople must be enabled with the skills and knowledge to use the resources you provide them with. Therefore training, learning and development is a big part of sales enablement.
To the contrary, traditional sales training curriculum focuses on product knowledge, sales process and pitching your product or service. While salespeople need to be trained on these topics, the focus of traditional sales training is inward; it fails to look outward and account for the customer experience.
Why Organizations are Ditching Traditional Training for Enablement
There are several reasons why organizations are investing in the development of sales enablement as a strategic business function.
For starters, training is static. It has a start date and an end date and is treated as a tactical, ancillary task. The goal is time-to-completion. Company retreats and kickoff events are good examples of training. New hire onboarding is another example of training. Training (on its own) is ineffective because learners forget 40% of what they learned in just 20 minutes following a training session when no attempt is made to recall the information. After thirty-one days learners forget 80% of what they learned.
Related: Understanding the Forgetting Curve and How to Neutralize It
Sales enablement on the other hand is consistent, continuous, and ongoing. It is about achieving and maintaining a continuous state of readiness and always being "conversation ready." The learning never ends because the market is dynamic and there is always room for improvement, even for top performers. The sales skills and strategies that worked five years ago no longer work today and the skills and strategies that work today will most likely not work five years from now.
Finally, and perhaps most importantly, with traditional sales training, the goal is simply to communicate and impart knowledge on behalf of the learner. Training was never designed to support learners in adopting and applying the material in the field nor was it designed to foster adoption of new skills and behaviors such as how to educate a customer, speak like a thought leader, or collaborate with a group of stakeholders. This is a problem because effective sales (and recruiter) training is about adopting new skills and changing behaviors. Sales enablement is continuous and ongoing because it takes time and practice, lots of practice, - through experiential learning - to cultivate new skills and adopt new behaviors (and drop bad behaviors).
Sales enablement is outcome oriented. The objective of sales enablement is to make winning behaviors repeatable and scalable.
Another key premise of sales enablement is scalability. Whether you have a sales organization of one salesperson or 1000 salespeople, all the tools, content, training, and coaching are scalable and easy to access, easy to apply and easy to absorb. The best sales enablement programs track and measure learner competency and enforce whether resources are being used across the sales organization. Most importantly, they optimize future sales enablement efforts based on what is used and what is not used.
Is your organization stuck in the past and still trying to rely on traditional sales training? Or, is your organization forward-thinking and taking steps to adopt sales enablement as a strategic discipline?
To learn more about sales enablement and how it can give your organization a competitive advantage, download our eBook, The Staffing Leaders Guide to Sales Enablement