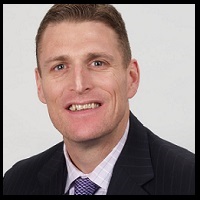 Three Ways For Calculating Your Sales Training Budget
According the 2017 State of the Industry report from the Association for Talent Development, organizations invest on average $1,273 per employee for training, learning and development. Organizations smaller in size spend more per employee and larger organizations

spend less per employee but smaller organizations have a much smaller training budget than larger organizations.
From my experience, most staffing organizations don't have a formal training budget and many don't know how they should allocate their sales training budget. In this blog I'm going to share with you three ways for calculating your sales training budget.
Percentage of Payroll
The most common formula for calculating your sales training budget is to allocate a percentage of salary or payroll. According to Training Magazine, high performing companies invest on average 6 percent of payroll to employee training. That means if you're paying your sales rep a base salary of $50,000 then you would invest $3,000.00 in training that employee. To look at your sales organization holistically, let's suppose you have ten salespeople and twenty recruiters for a total of thirty employees. Let's also assume your total payroll not including commissions or bonuses for those thirty employees is $2,250,000.00 ($75,000 per employee). If you allocated 3 percent of payroll to sales training that would equate to $67,500 annually ( $2,250 per employee). This method for calculating your sales training budget ensures that your organization is strategically committed to learning & development and employee retention.
Industry Average Training Investment Per Employee
Calculating your sales training budget based on a reputable industry report is another effective way for guiding and calculating your sales training budget. This allows you to benchmark your investment per employee against industry peers and market leaders. For example, a study conducted by Salesforce.com showed there is a direct correlation between higher levels of sales training investment and sales team performance. Under-performing sales organizations, those with a small percentage of sellers meeting and exceeding sales quota are nearly ⅔ more likely to spend less than $1,000 on sales training per sales rep annually than high performing sales organizations. Using research including the graph below is an excellent resource and guide to help you calculate your sales training budget.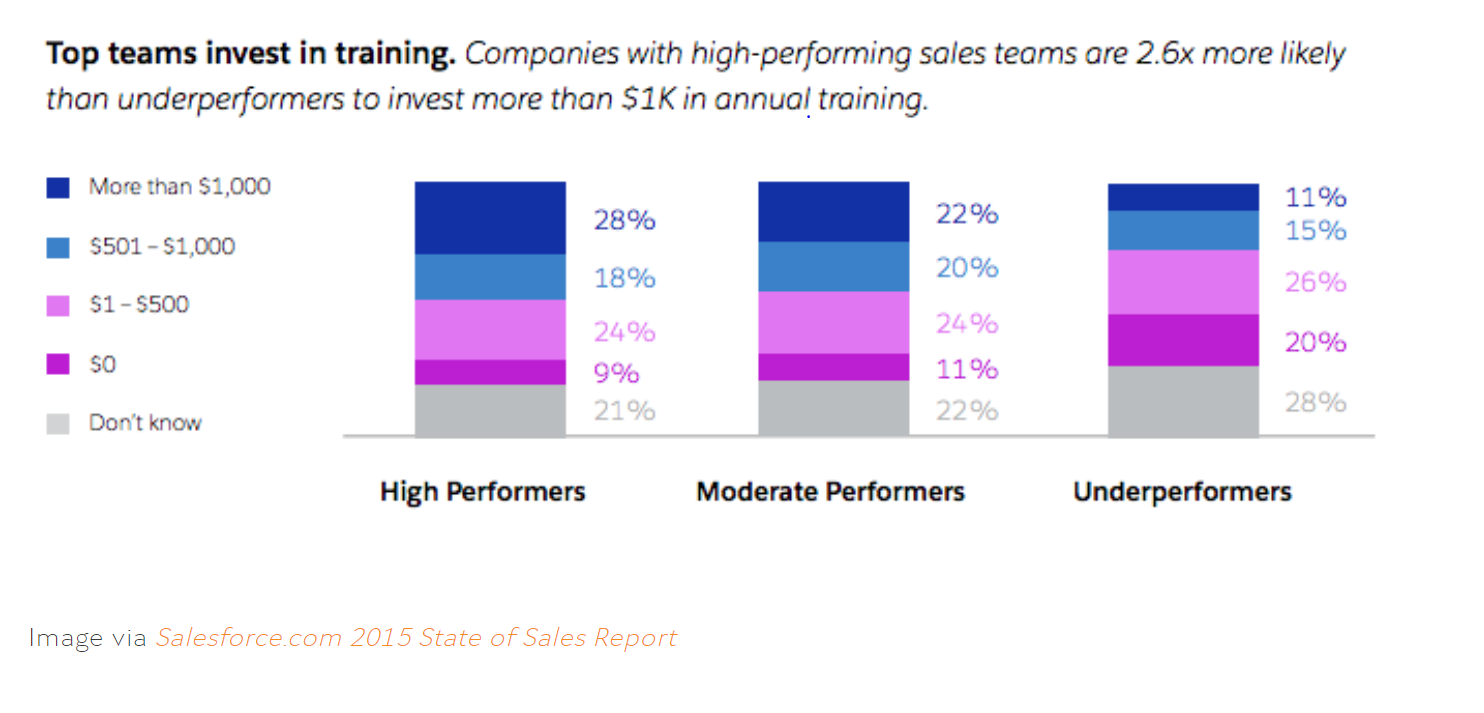 Using these reports not only ensures that your sales training and professional development investments and strategies are aligned with trends but it also ensures your competitiveness within the talent market.
Predetermined Training Needs, Cost Calculation
This calculation requires careful planning and work prior to the upcoming year. It's less of a formula and more of a cost estimate based on the needs of your organization. To plan for and estimate or calculate your sales training budget you should take the following into consideration:
What is your sales strategy?

Are you going into new markets?

Are you launching a new service offering or product?

What specific selling skills does your team need to develop or improve upon?

What specific knowledge is your sales team lacking?

During which stage or stages of your sales process are sellers most commonly getting stuck?
The answers to these questions will help you determine what sales training is needed in order to improve the effectiveness of your sales team and achieve your goals. It will also help you answer the question of build vs. buy (outsource) sales training, all of which will contribute to identifying what your sales training initiatives are for the upcoming year. For example, they might include:
Sales Management Training

Sales Activity Management Training

Sales Metrics Training

Objection Handling Training

Account Planning & Development Training
Next, think about your plan to deploy your sales training.
Will your sales team be participating in online sales training?

Will you need to hire a sales trainer to facilitate classroom training?
Next, estimate the cost of each training initiative. To this you will need to account for the following:
Number of Participants

Instructor Costs

Travel & Dining

Content/Materials Development

Facility Costs
There is no right or wrong way for calculating your sales training budget, just remember to remain flexible and try to anticipate shifts in your training investments. Most importantly, you want to make sure that your level of investment in employee training and development is competitive. Investing in employee training and development will always be cheaper than employee attrition.
To learn more on this topic, download our eBook, The Definitive Guide to Tracking and Measuring Sales Training ROI.