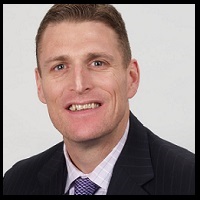 Online Sales Training vs. Instructor-led Classroom Training
If you're trying to find the best training program for your employees, there are a few things to consider when it comes to online sales training vs. instructor-led classroom training. In this blog post I share the differences between online sales training vs. instructor-led classroom training to help you decide if it is time for you take your sales training online.
Instructor-led Classroom Training
Instructor-led classroom training is the type of training you're most familiar with. It's training that occurs in a classroom. There's a teacher presenting the material. Instructor-led classroom training is the most common method for delivering sales training. Instructor-led classroom training is perceived to be the most effective method in providing content due to the interactive environment. The belief is that an expert sales training instructor can offer the best insights and instructions to the learners. Instructor-led classroom sales training is and continues to be an effective means for delivering sales training.
Advantages of Instructor-led Classroom Training
The best advantage of instructor-led training is that employees have the opportunity to ask the instructor and their peers questions. Highly-trained corporate trainers and instructors can also adapt their presentations to the skill level, experience and job function of the class they're teaching.
Instructor-led classroom training can break into brainstorming or role-playing groups. This allows learners to learn from each other. And, as PhoenixTS reports, there's an added value and sense of worth for in-person training, especially among healthcare and customer service employees.
Challenges of Instructor-led, Classroom Training
Challenges do exist with instructor-led classroom training. Online sales training offers solutions to many of these challenges, including:
High cost of implementation, both in terms of time and money

Inconsistent messaging and teaching styles of instructors

Time away from work and interruption to employee's daily tasks

Knowledge and skill retention
Online Sales Training
Online sales training refers to sales training that is delivered online though a cloud based sales enablement platform or learning management system (LMS). With online sales training learners can access the training through a mobile application or web browser. Online sales training is ideal for sales organizations with a distributed sales team in which sellers are located in different markets and for companies who don't want to take their salesforce out of the field and lose productivity.
Advantages of Online Sales Training
Additional advantages of online sales training include:
Scalable: Online sales training is scalable. You can train as many learners concurrently as you need, regardless of location, role, skill or experience
Cost Savings: Companies save money in travel costs, employee time away from work (sales reps out of the field) speaker fees, hotel and accommodations
Time Savings: Taking less time away from an employee's work day, as online sales training consumes 40-60% less time than instructor led, classroom sales training
Flexibility: Employees can access training when and where they have the time to do so
Personalize Training: Creation and deployment of personalized learning paths based on the learners job role and function and experience level
Retention: Online training and microlearning is proven to increase and accelerate learner retention
The Numbers Don't Lie
A competent sales team meets sales quota, poor sales teams miss quota, and high performing sales teams exceed sales quota. The gap between a poor and a high performing sales team hinges on their knowledge, skills, and motivation. Your sales team may lack one or more of these elements, but all three can quickly, easily and cost effectively be enhanced, updated and scaled with online sales training.
High performing companies make huge investments in sales training and development, with mean training budgets clocking in at nearly 6% of payroll. (Training Magazine)

Nearly 9 in 10 Americans are online, with around 80% owning mobile devices. (Pew Research)

Millennial internet users spend an average 185 minutes every day on the mobile internet. (Statista)

Millennials prefer to learn online and through mobile devices. (NovoEd)
Training ranks among the most important factors contributing to competency, performance and employee satisfaction and retention. (CIO)
What This Data is Telling us is Twofold:
Online sales training is indispensable and game-changing.

The next generation of workers prefer to learn through online training via mobile devices.
Today, Millennials account for the largest employee group and will likely remain so for many years to come. By aligning your sales training including your learning and development culture with millennial behavior and preferences, you lay the foundation for a well-equipped sales team positioned to crush the competition.
Online Sales Training vs. Instructor-led Classroom Training
Let's take a closer look at how online sales training compares with traditional instructor-led classroom training.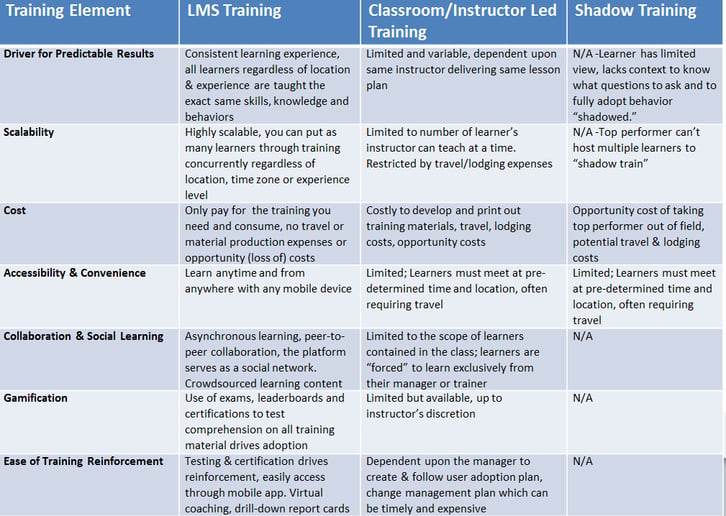 Research has shown that adults learn best in a collaborative environment that allows for multiple modalities of learning. Adopting online sales training including a learning management system makes learning more effective because learners retain the knowledge they've gained from working with peers and mentors and interacting with content in many different ways vs. being lectured to. This is referred to as social learning which offers many benefits.
When you can easily update sales training materials to accommodate the roll out of a new service offering or new customer case study, or make changes to your contract to hire terms or customer service level agreements and quickly make them available to your entire organization and test their comprehension, you ensure that none of your employees get left behind. That is all done with online sales training and a learning management system. You can't do this in a quick and cost efficient way with instructor-led classroom sales training.
According to industry analyst firm Bersin by Deloitte, "organizations that have adopted a continuous learning capability to training makes them more innovative, responsive, and agile as their markets change. This model includes talent development planning, mentoring, and lots of sharing and collaborative learning. By creating a memorable training experience that is flexible and innovative and delivers the kind of training and educational content that professionals require for improving performance and professional development, you can gain an advantage in the war for talent."
How are you training your sales organization? Which do you think is right for you, online sales training or instructor-led sales training? Or, maybe both? Let's start a conversation in the comments section below.