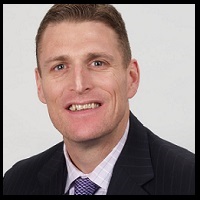 Your New Hires Completed On-boarding, But Can They Execute?
When a new sales rep or recruiter joins your staffing firm, their success is primarily dependent upon how well your new hire on-boarding program is designed, organized and executed. As I have discussed in past blog posts, there are many different ways in which you can set up a new hire on-boarding program. One way is a 30-60-90 day sales on-boarding program in which sales reps set out to master specific knowledge and skills over 30-day increments. The easy part is setting up the training and putting your new hires through your sales on-boarding program. The hard part is certifying and validating whether your sales rep internalized and mastered the skills and knowledge and can execute.
Training and new hire on-boarding is not about how quickly a rep can complete the training, but about how quickly the rep can internalize, master and execute the skills.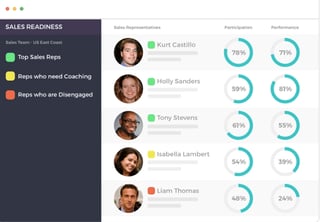 Using quizzes, assessments, certifications and leader boards throughout each on-boarding course can help determine if sales reps have learned the material, but the only way to determine if your new hire has internalized the material and can execute is through role playing and sales coaching.
Here is how we organize our 30-60-90 day training program and incorporate certification assessments to test a new hire's ability to internalize and execute what was taught.
30 Days: Internalize Knowledge
The first 30 days focuses on internalizing important knowledge where reps are tested on foundational material through quizzes and interactive exercises. For example, reps will be trained on foundational knowledge to understand their target market, sales process, buyer personas, and the buyer's journey. There is no skill development in these courses but instead a focus on developing and understanding the necessary knowledge to be successful. Since this information is so critical to their success it's essential to test their comprehension and make sure they've internalized what they learned before they move on to skill development.
Related: 6 Reasons Why Sales Training Fails
60 Days: Skill Development Through Automated Role Play and Video Sales Coaching
Next, we focus on skill development by putting reps through courses that may include call planning and cold calling, qualifying sales leads, and running a sales discovery call or face-to-face-meeting. After learning how to create call plan and execute a cold call new hires should be able to demonstrate that they can execute what they were just taught. Through automated role play and simulations we ask reps to create real sales call plans and rehearse what they will say to execute their call plan by recording themselves into their computer webcam. We also use simulations in which sales reps are asked to role play or record video responses to our IT staffing specific sales scenarios such as pitching a candidate, scheduling an interview, overcoming objections and or a rate negotiation.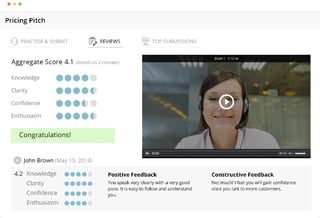 They can also do in-person role play, where they act out how they would cold call a prospect with their sales manager or with a sales trainer such as myself and the trainer or manager would assess and evaluate the rep's performance. We also assess skill development with automated video coaching technology, which allows reps to record a video of themselves rehearsing a conversation with a prospect, customer or candidate and submit it for manager review and feedback. The benefit of this assessment is it forces the sales rep to prove that they can execute the material. It also drives social learning, one of the most impactful training methodologies today. Remember, lots of sales reps and recruiters can "walk the walk" but can they "talk the talk?" Your sales reps or recruiters will not be able to fake their way through these assessments.
Related: Five Ways to Overhaul Your On-boarding Program and Boost Training ROI
90 Days: Field Assessment
Next, we assess what happens in the field. If you have ever played the game of golf you know full well that you can go to the driving range and hit them long and straight but when you cross the cart path to the actual golf course your shot falls apart. Field assessments are much the same way in that you want to see if the rep is executing in the field they way are in the role play and simulations. This is the responsibility of the sales manager or your sales trainer if you have one. This type of assessment can happen a couple of ways. For example, if you have an LMS platform like ours you can have your sales rep's record their computer screen during a sales call or demo and afterwards the sales manager can view the recording and assess the rep's performance and deliver feedback. Or the sales manager can listen to live sales calls and attend sales meetings.
Each type of assessment is designed to test knowledge and comprehension of the material and determine if the rep can execute. These assessments also help you get to the heart of training and on-boarding which is to answer the question of they completed it but can they execute it? The answer to this question is the difference between top performing IT staffing firms and everyone else. Which are you? Which do you want to be?
Related: Sales Training That Sticks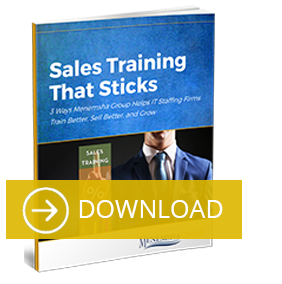 Only when you have incorporated the proper certifications and assessments that enable your sales reps to demonstrate they can execute what they learned will your new hire on-boarding program deliver the results including accelerated ramp up time and an increase in quota attainment. Poor or ineffective new hire on-boarding on the other hand will cost your company a significant amount of money in the form of lost productivity and wasted time, opportunity costs and lost deals.
It's impossible for sales reps to learn everything about your company, service offerings and internal systems not to mention the sales skills in their first few months. So try implementing a 30-60-90 day on-boarding program around the training that will prepare them for initial conversations. Then figure out how you will support them with just-in-time and continuous learning after the first 90 days.

About Dan Fisher
Dan Fisher is founder and owner of Menemsha Group, a provider of sales enablement solutions dedicated to helping IT staffing firms improve win rates, shorten their sales cycle, and increase revenue per sales rep. Since launching Menemsha Group in 2008, Dan has consulted with over 200 IT staffing firms and has invested over 5000 hours coaching IT staffing sales reps. He's authored is his own proprietary sales methodology and has previously spoken at Staffing World, TechServe Alliance and Bullhorn Live 2012. Prior to launching Menemsha Group, Dan spent 16 years in the IT industry running local, regional and national sales teams. Dan worked for Kelly Services, Oracle Corporation and Alliance Consulting. Dan currently resides in Boston, Ma.