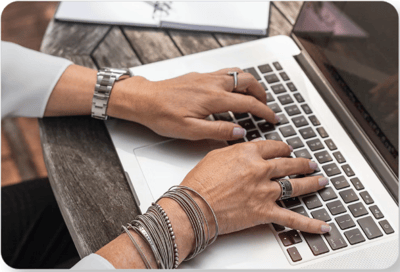 Knowledge consists of facts, concepts and principles acquired through experience or training and committed to memory.
To convert outbound sales prospecting techniques into new prospect sales meetings, salespeople must be enabled with the following three pieces of knowledge:
The ideal customer profile
Buyer personas
A strong value proposition
1. The Ideal Customer Profile
Before you can master sales appointment setting — and before you can even start to make calls and send emails — you must first be crystal-clear on exactly who you want to be talking to and why.
Think about how much effort it takes to actually get someone to say, "Yes, I'd like to meet with you." And then, after all that effort, how frequently that person turns out to be the completely wrong individual for you to talk to. If that happens, it's because you haven't defined your ideal customer profile.
Salespeople who lack an ideal customer profile (ICP) waste countless hours talking to people who were never going to buy from them in the first place. The clearer you are about your ICP, the more effective your outreach will be. And, in turn, the more often you'll be able to set an appointment. Defining your ICP (and buyer personas, which I'll explain below) makes successful appointment setting scalable and repeatable.
One of the best ways to tighten up your ICP is to identify who you don't want to speak to. Who are the companies and people you might come across that are likely to not be a fit? Getting very clear on who you don't want to talk to will ultimately help you clarify who you want to connect with.
2. Buyer Personas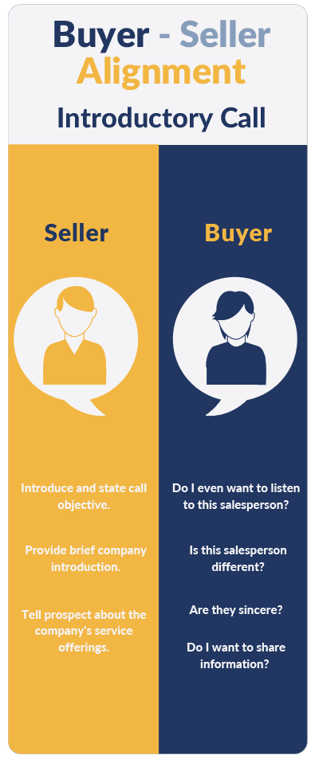 The illustration below lists (in the left column) the typical things salespeople say and do when engaging a prospect for the first time. The column on the right lists the questions and concerns running through the mind of the prospect. Can you see the disconnect?
The first thing your prospect notices, and often the only thing, is how well you and your sales team understand them: their role, their challenges, their industry, and the goals they want to achieve.
Buyers have many options to consider and decisions to make before agreeing to meet with a salesperson. So, why don't more salespeople take the time to better understand the buyer's perspective? Because they're mostly focused on what they're going to say. While the seller is talking, the buyer is evaluating the salesperson.
To stay in alignment with the buyer and consistently book new prospect sales meetings, salespeople must possess buyer persona knowledge.
What Is a Buyer Persona?
A buyer persona is a fictional, generalized representation of your ideal customer or customers. A buyer persona contains information about the buyer and their business interests, including:
Their role and responsibilities
Their goals and objectives
The common challenges they face in their role
How they are measured
Their likes and dislikes
Other demographic information
Buyer personas are based on market research, including customer interviews.
How Buyer Personas Enable Salespeople
At the most basic level, buyer personas enable salespeople to personalize their messaging for the different buyers they sell to. Instead of leaving the same message for every prospect, salespeople must tailor their messaging by buyer persona type. Personalizing your message requires buyer persona knowledge.
Without buyer persona knowledge, salespeople are left with nothing to talk about but themselves, their company, and their service offerings. They're forced to go into a sales pitch. But when salespeople possess buyer knowledge and use buyer personas, they can make the prospect — and what matters to the prospect — the focal point of the discussion.
Buyer Persona Example
The illustration below depicts a buyer persona for a chief information officer (CIO). Someone selling IT staffing services to CIOs would use this buyer persona to guide their calls, demonstrate credibility, and book meetings with every CIO within this market segment (financial services, $750 million to$1.5 billion in revenue). This buyer persona would help a salesperson prepare for their call and personalize the buying experience for their prospects.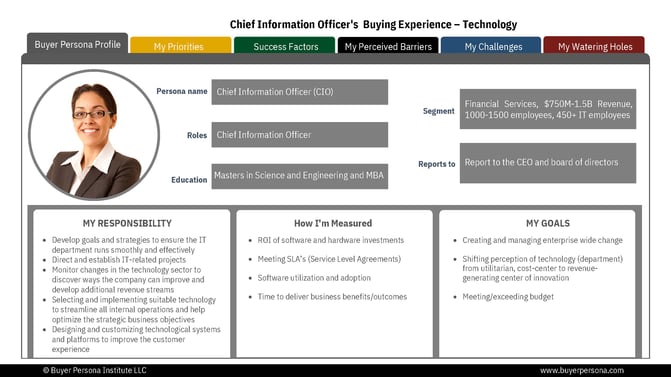 3. A Strong Value Proposition
If you or your salespeople are struggling to book sales meetings with new prospects, your value proposition is not strong enough. Let's examine two sample value propositions, both of which are representative of what we find in the staffing and recruiting industry:
"ABC Staffing was founded on one simple principle: to drastically simplify the process of finding qualified professionals and solutions for any type of business."
"XYZ Staffing helps client companies and candidates succeed. We help our clients achieve their business objectives and we help our candidates propel their careers forward. Your success is our business."
What do these value propositions have in common? They're both extremely vague. What quantifiable impact would a client receive from using either of these firms? It's not clear — and that is my point.
What Do Your Prospects Want? Business Results
The job of a corporate business manager who leads a team is to leverage all available resources to pursue and achieve their goals and objectives.
Corporate business managers spend their time thinking about the people they're responsible for and the people they're accountable to. They want to keep their boss and their customers happy while fulfilling the obligations and expectations placed on them. This is how your prospects remain employed, receive promotions, and earn bonuses, stock options, and other incentives.
Towards that end, what all managers want are business results. The business results your prospects want include:
Increased revenue
Reduced costs
Improved asset utilization (improved efficiency)
Increased market share
Accelerated time to market
Reduced customer churn
What does this have to do with your organization's value proposition? From a prospect's perspective, a value proposition should answer the following question:
What quantifiable results can you deliver for my business?
A value proposition should highlight the tangible business results a customer gets from using your product or service. Your value proposition should focus on results or outcomes, not on your internal processes, or the quality of your recruiters or your recruiting process.
Your value proposition should include metrics or statistics to quantify your value and your impact on your customers' businesses.
Example of a Business Results-Oriented Value Proposition
Here is a value proposition I wrote in 2005 for Kelly Services.
We helped Wyeth Pharmaceuticals implement a master data management (MDM) strategy which has enabled them to fully integrate their quality assurance, product development and manufacturing processes resulting in integrated planning and decision making. As a result they have:

Reduced time to market by 28%

Reduced manufacturing costs by 18%

Reduced warehousing costs by 23%
Notice this value proposition doesn't discuss candidate skill sets, fill ratios, or our recruiting and screening process. Why? Because this value proposition was written from the customer's perspective.