Consultis revamps sales onboarding in 90 days, increases new client meetings 34%, new client placements 11%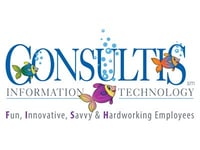 About Consultis
For over 30 years Consultis has been providing IT staffing and workforce management solutions for Fortune 2000 organizations (non-VMS/MSP) throughout Florida, Texas, and Minnesota.


The Business Challenge
It was taking six to nine months and in some cases over twelve months for new hires to ramp up to quota attainment. As a result, Consultis was struggling to meet their growth objectives. Consultis was experiencing the following challenges with their training and new hire on-boarding:
Reliance on Shadow Training: A focus on shadow training resulted in each rep being trained differently and following a different process then the rep next to them which produced inconsistent results.

Lack of Employee Engagement: Relying on new hires to read word documents and consuming PowerPoint presentations failed to properly engage new hires, nor did they retain the information. This extended ramp up time.

Lack of Training Metrics: Consultis had no way to track, measure and tie training performance to sales results. Leadership lacked the insight to know which new hires were worth the continued investment and which were not. Managers also lacked the data to provide the proper coaching to drive adoption and improve performance.
The Menemsha Group Solution
To meet their revenue and gross profit targets, Consultis asked and Menemsha Group delivered a sales training program that would meet the following objectives:
Accelerate Time to Quota Attainment: Consultis wanted to reduce time to quota attainment in the following key areas: new client meetings, new client MSA's, new client job orders and placements (gross profit attainment).

Provide a Consistent, Engaging Training Experience: Consultis wanted a new hire training program where all new hires received the same consistent training experience (same content, same quizzes, same use cases/role plays) so that all reps across all locations execute on the same methodology. They also needed rich, dynamic training content that would engage their millennial workforce for improved content comprehension and adoption.

Empower Managers with Metrics & Report Cards: Consultis wanted access to data analytics that told them in the first 30-60 days the likelihood for success with each new hire. They also wanted data that would tell them what level of coaching each rep needed based on training performance.
Business Results
Within 90 days Consultis experienced improvement in sales performance. Specific results include:
34% increase in new client meetings

21% increase in new master service agreements (MSA's) signed

26% increase in new client job orders

11 % increase in placements