Menemsha Group's Cold Calling Tips & Best Practices
Download our eBook and discover how Menemsha Group replicates winning behaviors and increases overall team quota attainment by as much as 50% for hundreds of staffing and recruiting teams. In this guide I am going to share with you the strategies and tactics used by top performers to improve your prospecting efficiency.
In this guide you will learn:
How and why you need to have a clearly defined target market
How and why you must score your leads
How to set call objectives
How and why you need to create a sales call plan (and track and measure completion)
How to demonstrate value and create a memorable experience for your prospects
How to apply metrics to track and improve your prospecting effectiveness
What buyer personas are, why they are so important, and why they're the key to successful prospecting for IT staffing sales professionals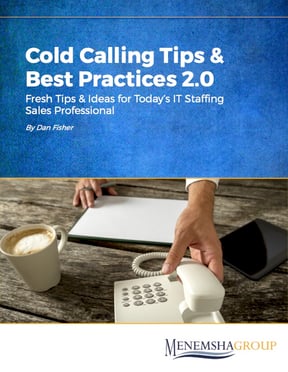 Do you wish you could enable more of your producers to deliver like your top performers?
Download our eBook today!