Optimize Employee Engagement & Drive Bullhorn Adoption & ROI
Though you have that shiny new Bullhorn CRM/ATS, it is difficult for it to become a real company asset when it is not properly configured or managed properly and employees are unsure of how to use it. Protect your Bullhorn transformation investment with our Bullhorn Implementation and Consulting Services.
Through a highly collaborative and iterative approach Menemsha Group will design a structured deployment plan that identifies your current state and desired future state. We will take into consideration your organization's culture, business challenges, current business (sales) process pain points, workforce experience, management practices and how change will impact multiple audiences, ensuring your organization is prepared for real, long-term transformation.
Design a best-in-class, customer aligned sales process all from within Bullhorn.

Menemsha Group designs and implements scalable and repeatable sales processes within your Bullhorn instance enabling you to achieve long-term sustainable growth. Getting your sales reps to sell in the same consistent manner is the key to scalability and achieving repeatable and predictable revenue. You can do it with Menemsha Group.
Benchmark Your Sales Process Capability Effectiveness & Maturity Adoption
Menemsha Group can benchmark your sales process including your Bullhorn configuration against sales best practices to determine its overall effectiveness and maturity adoption level. Applying our sales process maturity model we will determine your sales team's effectiveness and optimize your Bullhorn configuration. With a fully configured and optimized sales process in Bullhorn you can: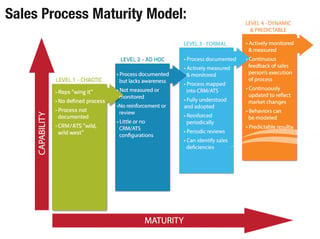 Quickly identify sales bottlenecks
Diagnose sales deficiencies and provide opportunity specific sales coaching
Improve pipeline visibility
Improve forecasting accuracy
Map & Configure Your Sales Process in Bullhorn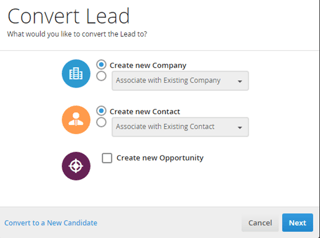 Combining our staffing industry experience and sales process configuration expertise we can physically map your sales process and configure your Bullhorn so that all of your reps, regardless of location will follow one unified sales process and speak a unified sales language. We can configure the stages of your sales process including:

Lead creation, Qualification and Conversion
Opportunity Management & Conversion


Job Creation, Qualification & Conversion

Sales Methodology Drives Bullhorn Adoption

Shorten your sales cycle, improve sales win rates and increase overall quota attainment by incorporating our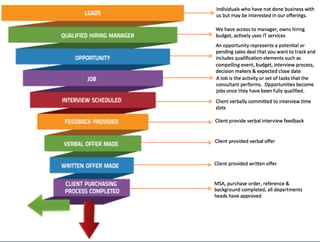 proprietary, staffing sales methodology into your Bullhorn configuration & accelerate Bullhorn user adoption.
Our methodology provides sales reps with a structured approach to selling and is designed to minimize customer objections, uncover customer needs and build value for the customer while providing insights into how buying decisions are made. The following highlights the depth and breadth our sales methodology.
Lead Generation & Qualification
Lead Nurturing
Opportunity Development
Opportunity Development/Management
Opportunity Management
Large Key Account Development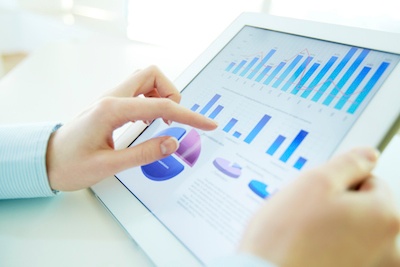 Sales Performance Metrics
Tie it all together by leveraging our sales performance metrics methodology. Following our sales metrics methodology your sales leaders will quickly and easily identify, diagnose and improve sales effectiveness enabling them to effectively manage vulnerabilities and execute corrective action. With our metrics methodology you will be able to:
Drive desired sales behaviors
Measure the health of your sales organization by looking into the future
Measure the sales effectiveness of your sales people
Have visibility into your pipeline
Forecast revenue with confidence