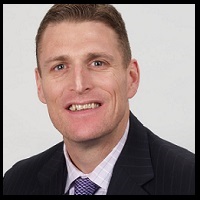 Rightsizing Your Sales Process with Change Management
Do you know who Edwards Deming is? I didn't think so. I didn't know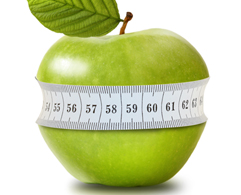 either. Edwards Deming was an American statistician, professor, author, lecturer, and consultant. And he was credited for saying "a bad system will beat a great person every time." You know what, he's right! Take it from me, I learned the hard way. And in my six years providing sales training and consulting services, I have seen hundreds of others learn the hard way as well.
You see nowhere is this truer-"A bad system beats a great person every time-"than with your salesforce and your sales process. Build a great sales process and you can build a great company. It will scale. Great people however, well we can't clone them.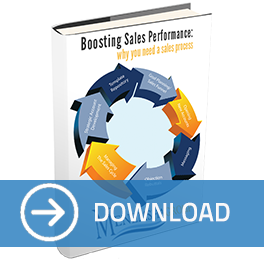 First, a sales process defines the steps that a sales rep and a customer need to take in order to complete the purchasing process. It provides sales reps with a road map telling them exactly what they need to do next in order to move the opportunity forward and close the deal. A documented sales process allows you to:
• Identify,
• Qualify,
• Analyze
• Diagnose and
• Measure opportunities and then determine the next step in the sales process.

A good sales process is based on objective and verifiable information and it should be aligned with the customers purchasing process, not how sales people want to sell. Studies show that sales organizations that have a clearly defined and documented sales process are more than 2.5X's more likely to hit their revenue goals than those who don't have a sales process.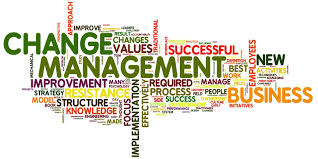 Driving & Sustaining Change in your Salesforce

Implementing a new sales process or rightsizing your existing sales process is no easy matter. It's not just a matter of telling your sales reps which activities to focus on. You need to approach your sales process initiative as a change management initiative. Because that is exactly what it is. You're asking your salesforce to change their daily behaviors. If you don't support your newly desired sales behavior with reinforcement activities, metrics, training and coaching to measure and reinforce the change, your sales team will quickly revert back to its old way of doing things.

In fact, according to the 2009 Sales Optimization Study CSO Insights, If you are going to invest in training your sales people then the follow up process needs to be in place for their managers to ensure that the training is being applied consistently and effectively by the reps in their daily workflow so that it becomes ingrained into the way in which they sell. Failing to do will minimize the ROI your company sees from your training investments.

When implementing a new sales process (or rightsizing your existing one) it is critical to capture upfront exactly how much change is needed to reap the benefits. What often slows down or hijacks the adoption of a new sales process is failure to scope the amount of change required (just how much you are asking the organization and your sales team to change) and creating the appropriate change management plan. This is one of the classic reasons why sales process implementation fails. Management announces the change and maybe does one or two communication pieces on the change and that is it. Failure. Guaranteed.

When too little change management is applied, business reverts back to "normal." This is often the case when sale people tell you "oh, this new process (or training) is just management's new flavor of the month. It will pass."

Another Everyday Example

The Sales Director holds his or her team meeting with their sales team and in that meeting introduces some new call planning tools. The Director explains the tools and how they are to be used. The Director asks the team to start using the new call planning tools on a daily basis today. The problem with this approach is it takes a much more strategic and holistic approach to get the sales team to use the new call planning tools on a regular basis. Again, sales management is asking the sales team to change their behavior. But the change required by the salesforce to adopt the new call planning tools and incorporate them into their daily workflow is underestimated. To get this new behavior to stick long term the Sales Director needs to have an overall system in place that supports, encourages and reinforces the use of the call planning tools.

Let me share another story. A few years back the CEO of an IT solutions firm hired me to provide a two day sales training workshop. The CEO was real adamant about getting the training rolled out to the team. I however was concerned about a few things. First, I didn't know anything about the skill level of the sales reps (how much could the CEO really know given that he doesn't spend time on the floor or in the field with the reps?). Second, I didn't know anything about their current sales process and how my content would integrate with their sales process. Third, I didn't know their managers and their disposition towards training let alone their sales style, philosophy or belief system. Fourth and most concerning, there was no discussion of a change management and user adoption plan. When I brought these issues up to the CEO he assured me not to worry about those issues and that he knew exactly what his team needed. He did say however that he would like me to come visit their office every other week indefinitely to provide reinforcement coaching (after the workshop).

The two day workshop went off and it went well. People enjoyed the content and found it valuable. But when I went in and did my first day of reinforcement coaching, what do you think I saw? A few highlights:
• The team continued to sell the way they always had (I heard team members on the phones not applying what we had just spent two days teaching)
• There was no consistency in the sales process from one sales rep to the next
• The sales managers were not leading by example (applying the material from the workshop)
• There was no coaching (of the other reps by the other sales managers)

As you can imagine, I had to go have a fun conversation with the CEO and explain to him that failing to focus on the change management plan, specifically uncovering the barriers to adoption and designing a reinforcement plan upfront undermined the two day sales training workshops. I went on to explain that without accounting for the amount of change that was needed nor the focus of a plan to drive adoption and reinforce the desired behavior, the CEO and myself would need to assess the poor performance and then attempt corrective action. The challenge however was the corrective actions were too late because the window of hope and enthusiasm that empowers behavioral change had closed. To regain momentum with a doubting and tentative sales force now required double the effort and investment to overcome their first negative encounter with the new process.

This all could have been prevented had we properly scoped out the amount of change that was required of the sales team and designed a change management and user adoption plan.

User Adoption Plan
A reinforcement or user adoption plan highlights the specific tasks and events that occur after the implementation and training to reinforce and drive the new desired behaviors. The plan details the content, the cadence or frequency and the event leader. This reinforcement schedule must involve the entire organization and it should include a variety of activities. The reinforcement plan engages team members through an assortment of communication vehicles to put a sustained focus on the reinforcement of desired change in behavior.
The illustration below highlights the common "phases" that an organization and team members go through when change is introduced.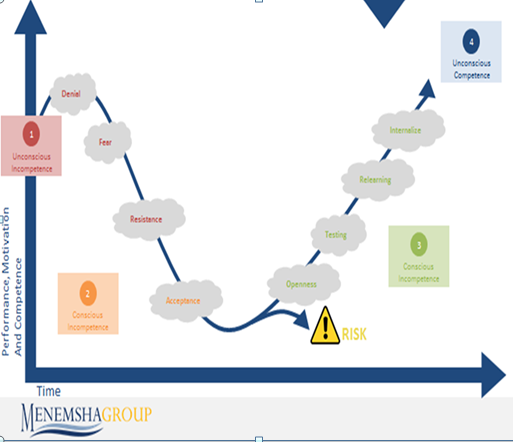 Change Management Plan
Successful Change Management is the practice of driving business results by changing behaviors. Change management is a method for reducing and managing resistance to change when implementing process, technology or organizational change. Whether you are implementing a new CRM/ATS system, implementing a new sales training and sales process or completing a merger, effective change management is essential to your success.


About Dan Fisher
Dan Fisher is founder and owner of Menemsha Group, a provider of sales enablement solutions dedicated to helping IT staffing firms improve win rates, shorten their sales cycle, and increase revenue per sales rep. Since launching Menemsha Group in 2008, Dan has consulted with over 200 IT staffing firms and has invested over 5000 hours coaching IT staffing sales reps. He's authored is his own proprietary sales methodology and has previously spoken at Staffing World, TechServe Alliance and Bullhorn Live 2012. Prior to launching Menemsha Group, Dan spent 16 years in the IT industry running local, regional and national sales teams. Dan worked for Kelly Services, Oracle Corporation and Alliance Consulting. Dan currently resides in Boston, Ma.