Experience Measurable, Quantifiable Sales Results in as Little as 90 Days.
Over 80% of our clients re-engage with us because of the positive change they see in sales behaviors within the first few weeks following training. Clients share with us that they see incremental improvements in the effectiveness and performance of their reps within weeks from completing a class and results that continue to improve with ongoing reinforcement coaching.
Below are common examples of the results and changes in sales behaviors you can expect to see from our training programs.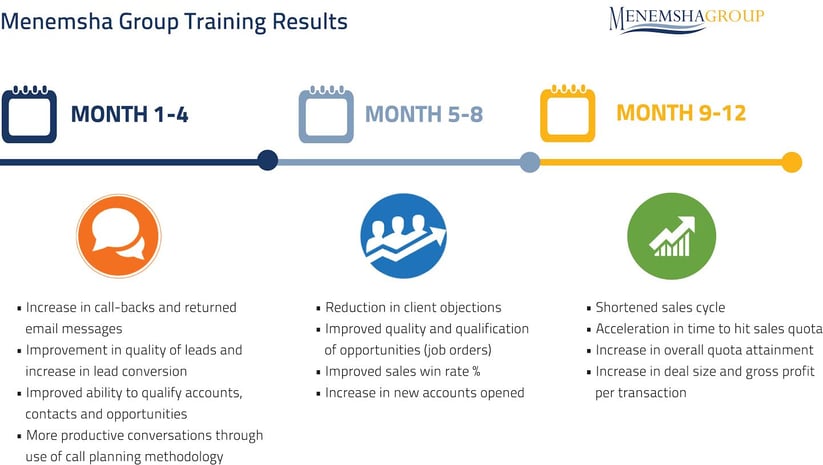 Your training results will be equal to the level of engagement from your managers and executive leadership.
We strongly encourage sales managers and executive leadership to actively participate in your sales training program. Consistent reinforcement is critical to long term results. Managers and leaders must model the newly desired sales behaviors in order for it to permeate the entire organization and "stick." Most managers know they need to be coaching their reps but if they fail to participate in the training they will not know what behaviors to coach and reinforce or how to model the desired behavior.
The majority of our sales training programs are followed up with reinforcement training in the form of a live training workshop that focuses on role play and exercises (applying what was learned in the training classes) and/or reinforcement coach calls.
If your managers have not had formal training than we recommend they participate in our Developmental Coaching training program so they can learn the skills and methodology to effectively coach and develop team members.
We can deploy your training program on your time line, depending on your situation. While you can expect to see results within 90 days, permanently embedding the sales methodology and sales skills comes with ongoing reinforcement coaching. Our time line will show you what you can expect as you continue on the path to sales transformation and a shift in your sales culture.
See how other companies who faced the same challenges you face experienced fast results in our client case study library.