Why Connecting With Your Team Yields Better Sales Results

It has often been said that managing sales people is like herding cats and while I have never herded cats, and have no desire to try, I have managed salespeople.

When I visualize someone herding cats, I've got to say that I think the analogy stands.
The reason managing salespeople can be such a challenge is actually quite simple. The characteristics that make a salesperson successful, also make them an employee that is very comfortable challenging authority and doing "their own thing."
Think for a minute about the characteristics of a strong salesperson: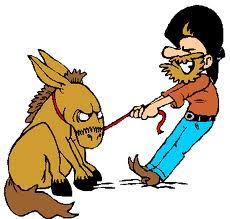 Independent
"Thick-Skin"
Motivated
Goal Driven
Able to deal with rejection
Comfortable asking difficult questions
Ability to create peer relationships with prospects and clients

Challenging the status quo
Look at that list for even a moment and the challenge becomes clear. The same person who is climbing your leader board is wired to go their own way. But, look a little deeper and the same characteristics that make your salesperson difficult to manage can also give you the keys to effectively managing them.
Go ahead, look a the list again, I'll wait...
What did you see?
Let me give you a hint:
The first key began with a "G" and ended with, "oal driven!"
The second key began with a "M" and ended with, well, I'm sure you get the idea!
You see, that is the secret. The way you manage your sales team is to take the time to understand what drives them. Not just WHAT their goals are, but the WHY behind those goals. The better that you understand your team's hot buttons the better that you, as their coach, can push, motivate, and encourage them.
Many managers make the mistake of forgetting that effective management is all about connection. Just like effective selling is about connecting with prospects and clients, we as managers have to connect with our staff. I would encourage you to stop thinking of your sales team as your "direct reports" and to start thinking of them as your "direct supports."
The more that we connect with our staff the more that they become our team. The more that they become our team the more receptive they become to our coaching because they understand that we care about their personal goals. Their needs. Their wants.
You can see the managers that take the time to achieve this level of understanding. It's easy to spot them. They are the ones who consistently meet and exceed quota and have the type of energy on the sales floor that you feel as soon as you walk in.
Is there more to effective management than understanding what drives your team? Of course there is. This sits atop an effective Sales Process, a well articulated Sales Methodology, and a thorough understanding of your Buyer's Journey. All three of those items come first.
Another way to look at your utilization of the knowledge you gain by developing the understanding it takes to connect with your team at this level is to view it as a "user interface" to your metrics and performance management plans. They give you a meaningful way to discuss, and ultimately achieve, your team goals while addressing the outcomes that your team truly cares about.
Action Step:
Take the time, and this will likely take a few meetings, to find out not only what your individual rep's goals are, but why those goals are important to them. Don't settle for surface answers, probe until you are certain that you understand what is driving each member of your team and then make those goals YOUR goals.
How do you do this?
How do you set up those conversations?
What questions do you ask?
Those are all great qustions! An
d the answers to them are not as complicated as you may think. The key is to listen to your reps and to focus on what they speak about often. When they do this, ask them follow on questions and determine if the thing you uncovered is really important to them or just "something they talk about." If it is, then ask follow on questions.
We cover topics like this in our whitepaper on Coaching (get it for free below) and in even more depth in our Developmental Coaching Framework training (drop me a line and I'll tell you about it!).
Also, when you are addressing a team member about their performance, don't speak in terms of company quotas and revenue goals. Speak in terms of that person's goals and what they need to do to accomplish that goal.
For example: Rather than talking about your rep's progress to their annual revenue goal, ask them how close they are to their downpayment on the new home they are saving for. Better yet, help them to plan their activity to ENNSURE they hit that personal goal. By personalizing your approach you will be driving the behavior you seek while developing a deeper connection with your team.
If you have ANY questions about this topic don't hesitate to reach out to Dan or I and we'll be more than happy to answer them for you. Better yet, leave a comment below and let's get the conversation started!
About Gerry Gadoury
Gerry is a fifteen year veteran of sales, sales management, and sales operations within the IT staffing and professional services industries. Gerry has designed and delivered IT sales training curriculum for multiple IT staffing firms and has experience working in all operational facets of the IT staffing and professional services industry including "hands-on" experience in sales, technical recruiting and branch management. Gerry brings invaluable experience in developing, delivering and reinforcing training programs and change management initiatives. Prior to Menemsha Group Gerry worked for Softworld Inc, Kelly IT Resources, GenTech, and the United States Marine Corps.