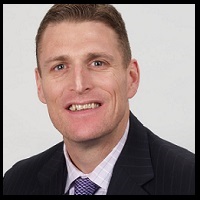 What is Your LinkedIn Ranking?
I'm not sure if you noticed but Linkedin recently released a new feature, the Social Selling Index (SSI) . When you click on it, it will instantly take you to your social selling dashboard and give you a snapshot of how you compare with your industry peers and network.
In this blog post, what is your LinkedIn Ranking?, I'm going to share with you what the LinkedIn Social Selling Index is, why it is important for sales professionals and how you can improve your LinkedIn Social Selling Index.
You may be saying to yourself, "why do I care?" or "why is this important?" Your Social Selling Index (SSI) measures how effective you are at establishing your professional brand, finding the right people, engaging with insights, and building relationships, all key elements to being a top performing sales professional.

Don't forget, your clients and prospects are also looking at your Linkedin profile. Additionally, research tells us that sales professionals who use Linkedin in their sales efforts perform better and produce better results.
In fact, I recently read some research that stated social sellers create 45% additional opportunities than those who don't use social selling as a tool. These superstars are also 51% more likely to reach their sales quota and they outsell their non-social selling peers by a staggering 78%. That naturally compelled me to take a look at my social selling dashboard to see how I stack up.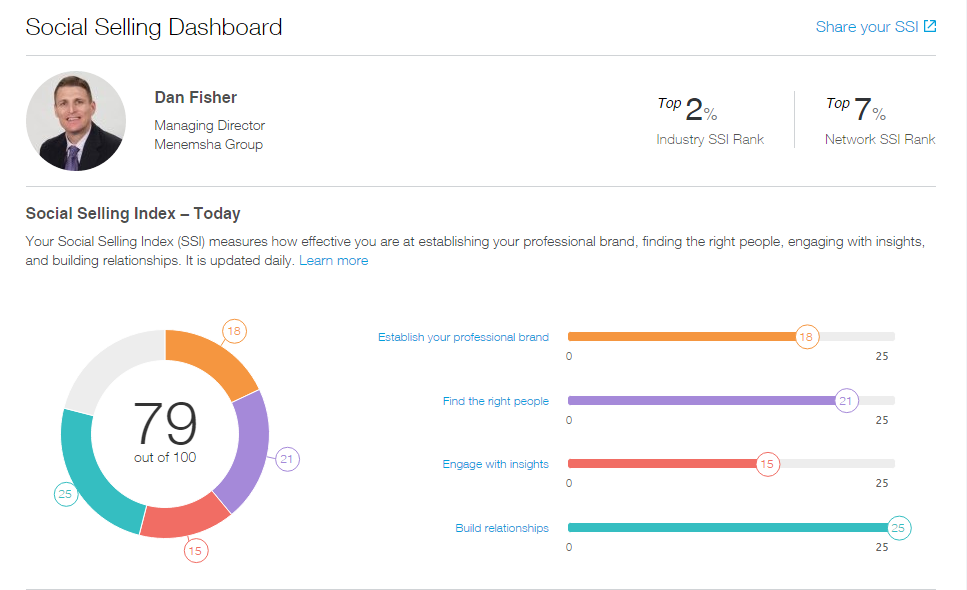 I have a score of only 79 out of 100 points which actually puts me in the top 2% of people in my industry and network. Not bad but I want to be closer to 100!
Here is where things get interesting. The index actually breaks your score down into four components for growth and development
Establish your professional brand

Find the right people

Engage with insights

Build relationships
As you can see, I'm doing pretty well with positioning myself as a valuable resource but I have some work to do as far as "Engaging with Insights" and "Building Relationships."
How do you rank? What areas do you have for growth and improvement? Learning a new tool takes time and I know you're already swamped. But the data is pretty compelling to boost your social ranking on Linkedin.
About Dan Fisher
Dan Fisher is founder and owner of Menemsha Group, a provider of sales enablement solutions dedicated to helping IT staffing firms improve win rates, shorten their sales cycle, and increase revenue per sales rep. Since launching Menemsha Group in 2008, Dan has consulted with over 200 IT staffing firms and has invested over 5000 hours coaching IT staffing sales reps. He's authored is his own proprietary sales methodology and has previously spoken at Staffing World, TechServe Alliance and Bullhorn Live 2012. Prior to launching Menemsha Group, Dan spent 16 years in the IT industry running local, regional and national sales teams. Dan worked for Kelly Services, Oracle Corporation and Alliance Consulting. Dan currently resides in Boston, Ma.