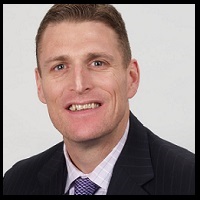 Three Killer Ideas to Supercharge Your New Hire Onboarding
"You will never get a second chance to make a first impression."
-Will Rogers
This quote from Will Rogers is timeless and relevant for just about all things in life and it is especially true when it comes to onboarding new hires.

New hire onboarding is one of the most crucial elements to retaining employees and building a top performing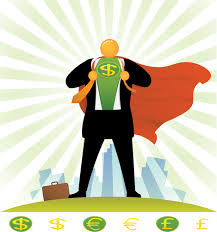 sales team. After all, it is the first impression you make on your new hire and it needs to be planned and analyzed for future adoption and growth. IT staffing firms looking to add staff need to better understand this important yet often undervalued and overlooked step so that they can accelerate new hire ramp up, reduce employee turnover and improve customer satisfaction.

Here are three things to consider when designing your new hire onboarding program and training new sales reps:

Map the Employee Journey
Successful onboarding requires a clear understanding and image of the employees' role and function and job expectations. Before establishing a process for training and onboarding your new hires, craft personas that account for their needs, goals, motivations, as well as the challenges they will face and the messages that will resonate with them and their prospects. For example, if you are hiring new sales representative to "hunt" for new business, you need to map out the steps in your sales process and the challenges they will face when "hunting" for new business. Orient your new hire training around those elements, don't train them on account planning or employment law. While that training and knowledge may be useful down the road, this is not applicable because it doesn't fit into their persona as a "sales hunter."

Think about the following scenarios when building your training content. When your new hire is prospecting and trying to convert leads into buyers, is cost the most important factor for your new hire to convert that prospect to a customer or is it something else? In what way will your new hire (sales rep) need to educate your buyer in order to convert that prospect to a customer? Understanding these insights will help you prioritize your new hire orientation, craft the right messages and develop sales training content and workflow that is most engaging for your employees.

Keep in mind that each role you hire for (new business development, account manager, inside sales, outside sales, telemarketer, recruiter, etc.) will require its own persona that accounts for their own needs, goals, motivations, as well as the challenges they will face and the messages that will resonate with them and those they interact with (prospects, customers, candidates, partners).

Map Your Sales Process & Identify the Common Bottlenecks

An effective new hire sales training and onboarding orientation program should be constructed around the sales process of your company. Sales people understand best in context to something they can relate to. In order to effectively "ramp" your new hires and make it engaging for them you will first need to define, document and map out your sales process and configure your CRM/ATS to automate your process. Your sales new hire onboarding program should align with the steps of how you sell your IT staffing services, your customer's buying journey-how they engage sales people and the steps they must complete in their buying process, with strengths against competitors and responses to common objections.
According to a 2015 CSO study, hiring effectiveness improves as levels of sales process becomes more formalized. You can evaluate the maturity of your sales process and determine how to improve your new hire onboarding program and sales performance by using the table below. As you read through the descriptions, you may recognize stages your company has experienced in the past, and you may see stages you aspire to reach.
Image how your overall quota attainment would be impacted if you could improve the capability and adoption of your sales process? This is what you want incorporated into your new hire sales training program.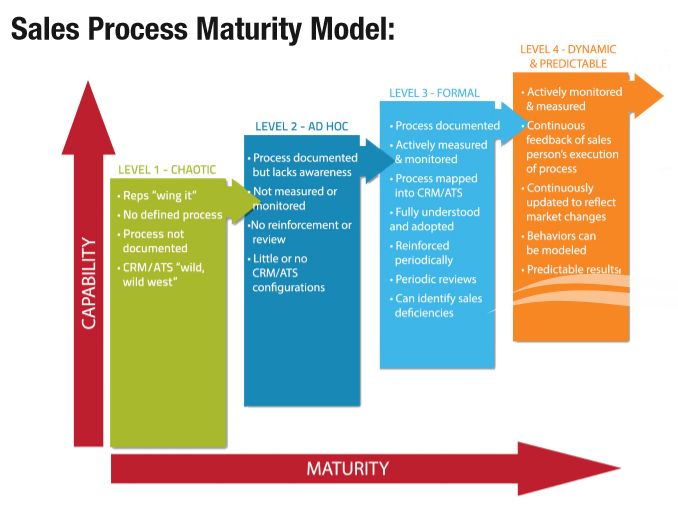 Communicate the Value Proposition

New hires needs to understand what problem(s) your service solves and who the target market audience is for your service. For example, if you're IT staffing firm excels at delivering Project Managers, is the target audience the VP of the PMO, the Director of the PMO or the manager of application development? Maybe it's all three. The point is your new hires need to understand this and they need to understand what the message is each for each buyer type. Why? Because each of the buyer types I just mentioned all have different buyer personas. Your training needs to teach reps how to tailor their message to the different buyer types that you sell your services to. This is really about reverse engineering your process.

Second, you need a simple, clear and articulate description of what makes your service unique. New hires (nor your customers) shouldn't have to work hard to understand what it is you sell and it how it will impact the customer's business. In less than fifteen seconds, new hires should be able to grasp the product's core advantages and clearly articulate those advantages. Amazingly enough we commonly see and hear reps express frustration over a lack of understanding exactly what it is they sell and what their value proposition is. You need to nail this first before you can expect your reps to become fully "ramped up."

About Dan Fisher
Dan Fisher is founder and owner of Menemsha Group, a provider of sales enablement solutions dedicated to helping IT staffing firms improve win rates, shorten their sales cycle, and increase revenue per sales rep. Since launching Menemsha Group in 2008, Dan has consulted with over 200 IT staffing firms and has invested over 5000 hours coaching IT staffing sales reps. He's authored is his own proprietary sales methodology and has previously spoken at Staffing World, TechServe Alliance and Bullhorn Live 2012. Prior to launching Menemsha Group, Dan spent 16 years in the IT industry running local, regional and national sales teams. Dan worked for Kelly Services, Oracle Corporation and Alliance Consulting. Dan currently resides in Boston, Ma.