Sales Metrics to Hold IT Staffing Sales Managers Accountable
As owners and se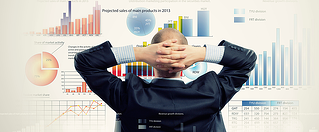 nior management it is our responsibility to track the behaviors and sales metrics of our sales managers, just as we expect them to track their sales team and hold team members accountable. This is a critical step in the development of a strong and successful sales culture that, as owners and senior managers, we model the behavior we expect of our direct reports (Managers) and, by extension, the individual contributors in the organization. In most organizations the sales managers are also responsible for carrying their own book of business. That is the assumption for the purpose of this discussion. So, what do we track?

Coaching Are our managers coaching the teams on a regular basis? Are they consistently modeling the sales
behavior for the rest of the sales team to follow? Are they coaching the reps and is it effective? (Clear, consistent reinforcement of our sales process, quantifiable results.)
Availability Are they taking the time to listen to calls, go on face to face meetings, act as a SME on large projects, etc.? Or are they simply "managing by the numbers." Managing by the numbers doesn't tell the whole story. Not even close.
PMP (Performance Management Plans) Are they holding the individual contributors accountable to the company's PMPs? (And are WE holding THEM accountable for theirs?) Do the sales managers and sales reps have a formal PMP and review and process in place? Is the review process (discussion) effective for all parties or is simply an exercise of "going through the motions?"
Growth Where do we stand year to date as well as for this time last year in:
a. Gross Revenue
b. Gross Profit
c. Markup (are we maintaining target markup %)
d. Number of Starts
e. Number of covered reqs
f. Number of reqs
Blend of Business (avoiding concentration risk) How many of the active reqs (assigned reqs being worked by the delivery team) are from existing clients? How many are from new prospects? How many accounts are our active consultants (people billing now) spread across? –It's great to have massive, multiple hiring accounts but there is too much of a good thing!
Manager's book of business Is the manager fulfilling the PMP that we created for her? Is the manager adhering to our stated sales methodology (Hint: If you manger isn't your sales people aren't either!). Also, the Sales Manager's PMP should have additional bullets detailing management specific goals (These will be specific to the phase of growth of your organization and the topic of a future Blog!).

These are some of the things that we should be monitoring in our Sales Managers. There are additional things,
and things that may be specific to your organization, but these are the basics. By monitoring
these behaviors and activities in the sales manager we send the very clear message that we believe in our stated sales methodology, that it is the road map that we have committed to, and that we expect everyone in the organization to follow it. By consistently adhering to our sales methodology and ensuring our people do the same, we as senior management and ownership build a scalable and manageable organization that empowers our employees to grow within. I would love to hear your thoughts! Please leave some examples from your own organizations in the comments below as well as any other ideas or things that you measure for your group.


About Gerry Gadoury
Gerry is a fifteen year veteran of sales, sales management, and sales operations within the IT staffing and professional services industries. Gerry has designed and delivered IT sales training curriculum for multiple IT staffing firms and has experience working in all operational facets of the IT staffing and professional services industry including "hands-on" experience in sales, technical recruiting and branch management. Gerry brings invaluable experience in developing, delivering and reinforcing training programs and change management initiatives. Prior to Menemsha Group Gerry worked for Softworld Inc, Kelly IT Resources, GenTech, and the United States Marine Corps.