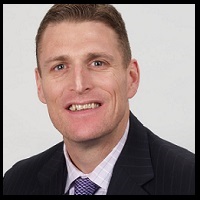 Sales Effectiveness Metrics Every Leader Must Measure
This is part one of a two part series in which I'm going to share with you which metrics sales leaders should be tracking to drive improvement in the overall effectiveness of their sales training & on-boarding program. This is part one.
As the Sales leader you're probably focusing much of your time on tracking what I call "legacy metrics." Legacy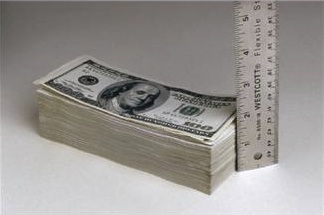 metrics include face-to-face meetings, submittals, interviews and hires. And as the sales leader you're also probably (hopefully) focused on measuring your reps level of engagement or participation in your sales training & sales enablement program including participation metrics, like number of trainings completed, amount of content produced, and the results of quizzes or exams and progressive improvement in role play. These metrics give you an idea about the activity and engagement level of your reps.
While these participation metrics are important to you when measuring the success of your sales enablement strategy, the positive impact of your efforts on revenue may not be as readily apparent. Trying to calculate how your sales training and new hire on-boarding efforts are impacting revenue appears to be a difficult and complicated task.
Tying the Effectiveness of Your Sales Training & On-Boarding to Business Results
With marketing, it's easy, traffic and leads are your go-to metrics. With sales it is revenue generated and number of deals closed. But what is it for sales training and sales enablement? There's no one metric that can tell you the business impact of your sales training efforts.
There will likely be external factors that are influencing the business results metrics you need to track. You cannot claim that the improvement in quota attainment is solely because of the efforts of sales enablement and training, For example, your training may have played a crucial role, yes, but maybe timing or the reworking of your talent acquisition strategy and finding better candidates played a role. Here are some metrics you should be tracking which will tie your training efforts to business results.
Metrics-to-Track: Proving the Worth of Your Sales Training & On-boarding Program
In essence, these metrics will tell you how much of an impact your new hire on-boarding, sales training and coaching is having on your sales reps.
New Hire Ramp-Up Time
Cutting down the 'time to productivity' is one of the primary parameters that can help you prove the effectiveness of your sales training and on-boarding efforts. We have worked with thousands of sales reps from hundreds of different IT staffing firms across the country and our experience and our data tell us that six months is the average ramp up time for a new rep in an IT staffing firm. That's a major red flag, especially when you consider the typical tenure of a rep is only 2.5 years.
Now let's assume you have 20 new reps each with a quota of $1M per year; and you manage to reduce their average ramp up time by one month. This means – your on-boarding program contributed $1.6M ($83,333 x 20) additional revenue, every year.
Tom Levey, the Senior Director for Sales Enablement at AppDynamics, for example, tracks the 'time to close the first $50K deal' as the main metric to report the effectiveness of his on-boarding programs. Like Tom, many sales enablement leaders prefer to track reps' time to first sale as their criteria to measure ramp up time.
We look at the time it takes a rep to close their first contract (not perm or contract-to-hire) deal worth $20K+ in gross margin.
How You Can Accelerate New Hire Ramp Up:
Create a progressive, milestone based sales training program. Map out the objectives according to the ramp up time that is appropriate for your business.
Day 1-30: Ensure all new reps have thorough knowledge of sales processes and basic services/capabilities knowledge.
Day 31-60: day: Clear articulation of your value proposition, basic objection handling, and how to apply best practices.
Day 61-90: First contract sale worth over $20k in gross profit made without any hand-holding or "throwing your rep a bone." (Existing client, hot lead)
Here is a sample infographic from our friends and partner at Mindtickle

Set the time lines and objectives according to your unique business context. Once you have this structure clearly laid out, it will help your reps focus their energies to accomplish the objectives. This will also push you to create very focused training material. At the end of every week, you can identify reps who are struggling and unable to reach the expected performance benchmark and provide them with needed coaching.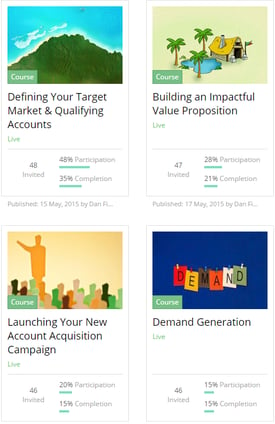 Create & Deliver Blended Learning Opportunities (e-Learning & Live In-Person Training)
Use your online e-Learning (like the Menemsha Group LMS platform you see to the left hosted by Mindtickle) to teach and test sales skills, strategies and your sales methodology. Use the live in-person training to uncover gaps, practice different sales scenarios, and discuss advanced topics, like competitive landscape. Your live training should focus on seeing how effectively your sales rep can apply the training to real life scenarios.
Assign scenario-based role-plays to help your reps become customer-ready faster. Remember, sales is all about being able to execute conversations. The online e-Learning training is going to teach them your sales methodology and build the baseline knowledge of your reps. Role playing builds confidence which enables reps to easily execute sales conversations.
Sales Win Rate Percentage
It blows me away how few measure sales win rate as a core sales metric. Tracking this metric truly aids in getting to the heart and soul of the effectiveness of your sales reps not to mention the effectiveness of your sales process and sales training and on-boarding program. As a sales leader you should always be striving to move this number amongst your sales team. When this number increases, it tells you that your sales rep are becoming more effective and improving their ability to execute.
By the way, tracking this metric also dispels the whole notion that "sales is a numbers game." When reps improve sales win rates it proves they are doing so without having to rely on always doing more activity to improve results.
How to Improve Sales Win Rates
To do this you will first need to make sure you have a clearly defined sales process and that your CRM/ATS is configured to support and automate your process. This includes having the stages of your sales process configured with the use of verifiable outcomes indicating whether or not your rep has successfully completed each stage (remove all subjectivity). Doing this will be able you to:
Identify bottlenecks in your sales process
Identify and document the common objections that occur at each stage
Provide "stage specific" sales coaching
Once you have that down you can also do the following to improve your sales win rates:
Equip your sales team with use cases and competitive intelligence that help them frame strong rebuttals and competitive threats.
Identify the gaps that are impacting your B players' ability to close deals. This is the low hanging fruit you should work on first. If you can segment the data by geography or individual and evaluate win/loss rates and their knowledge levels, you will be able to identify valuable insights (you can do this if you use the Menemsha Group LMS platform) For example, using the Menemsha Group LMS platform, you can then create specific training programs for teams that are falling short.
Adding some actionable industry insights to the report might also be a good idea. For example, if you notice that reps in a particular group are selling well in a particular industry or territory, you can understand what is working for them and share any relevant knowledge with the other teams. The impact of these insights on the other teams can then be measured and the results shared.
Catch me for part two of this article when I cover two additional metrics sales leaders can track to measure the effectiveness of their sales training and on-boarding program. Please share with me below what is working with your sales training and on-boarding program.

About Dan Fisher
Dan Fisher is founder and owner of Menemsha Group, a provider of sales enablement solutions dedicated to helping IT staffing firms improve win rates, shorten their sales cycle, and increase revenue per sales rep. Since launching Menemsha Group in 2008, Dan has consulted with over 200 IT staffing firms and has invested over 5000 hours coaching IT staffing sales reps. He's authored is his own proprietary sales methodology and has previously spoken at Staffing World, TechServe Alliance and Bullhorn Live 2012. Prior to launching Menemsha Group, Dan spent 16 years in the IT industry running local, regional and national sales teams. Dan worked for Kelly Services, Oracle Corporation and Alliance Consulting. Dan currently resides in Boston, Ma.