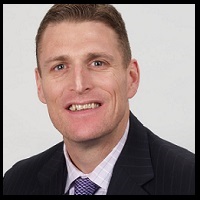 Lessons Learned: 10 Tips to Prevent a Wasted Marketing Investment
You can probably think of a million-and-one ways in which you can invest your finite budget to open new accounts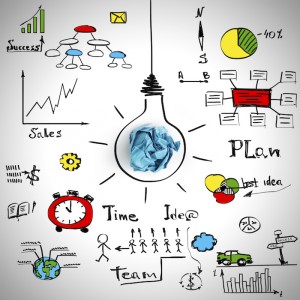 and increase market share. If you're like many staffing leaders you're probably thinking you can:
Update your web site with new copy

Update your web site with a new "look and feel"

Start a social media campaign on LinkedIn, Facebook and/or Twitter

Purchase a marketing list or sales data intelligence software

Update your marketing literature and pitch decks

Start a blog

Invest in marketing analytics software

Invest in sales enablement tools
Before building Menemsha Group on the Inbound Marketing methodology I foolishly invested (multiple times) in "one time marketing projects" including multiple web site launches and re-launches. You could say I have learned a thing or three when it comes to investing in marketing. To be direct and upfront, one-time marketing projects will have little impact on growing your business or expanding market share and they certainly will not deliver a sustainable revenue stream unless you deploy them as part of your overall marketing strategy. Take it from me and the lessons I'm about to share that there is a right way and wrong way to do it. Follow my lessons learned and prevent a wasted marketing investment and maximize your ROI.
Lessons Learned: 10 Tips to Prevent a Wasted Marketing Investment
Menemshagroup.com 1.0
I launched Menemsha Group in July 2008 and for the first several months I did what I had done throughout my entire career in IT staffing sales, I pounded the phone. I had a friend build me the most rudimentary web site you can image so I could just get my name out there and "hang my shingle." Not too long into my endeavor however I realized I would need another way to prospect other than cold calling because I couldn't consult with clients and host training workshops AND simultaneously keep my sales funnel full. So, in addition to my rudimentary web site I started blogging on blogger.com and I incorporated Constant Contact for email marketing. I needed leads to call on and I needed warm leads, just like your sales people need.
My first mistake was I had no idea who I was blogging for other than professionals in the IT staffing industry. I failed to recognize that there is a major difference between writing content for a sales rep vs. a sales manager vs. the VP of sales vs. the CEO. I failed to acknowledge and understand my true target market and buyer persona. As it turns out, 95% of my web site content and blog was really written for sales professionals, not sales leaders, business owners or CEO's of staffing companies. This mistake would come to haunt me down the road. More on this in a bit.
My other big mistake early on was I had no way of capturing leads. I had no idea who was reading my blog and I was doing nothing to capture their contact information. I failed to create effective landing pages with call to actions or CTA's. A CTA is when you click on a link and exchange some of your contact information for something equal in return such as an ebook or white paper. Because I never did this I was forced to build my database (salesforce.com) the old fashioned way, researching companies on LinkedIn and manually loading them into Salesforce.com. This was tedious and time consuming! If your sales people are still doing this you need to stop. There is a better, more efficient and effective way. Remember, I needed to automate my prospecting efforts because I didn't have time to prospect, maintain a full sales funnel AND continue to deliver training for customers. I need something that would scale!
Each month I sent out a newsletter email and I could see that people were clicking on the links (in the email) which told me people must be enjoying the content. Slowly, after months of blogging I started to build a following. I thought to myself, if I only knew more about those people including their job function, company size, type of staffing services they were selling, the challenges they faced and had their phone number I could call them and find out what they enjoyed most about my content and what was compelling them to read it. In short, I could market to them more effectively and convert them into customers. Keep in mind this was shortly after I launched my web site. At the time I didn't realize that a web site was supposed to generate sales leads and move prospects through an online, automated sales funnel on my web site because I was from the "old school of thought," that you generate leads through pure cold calling or purchasing a list. Either way, I assumed the only way one generates a sales lead is through a physical phone conversation. Sound familiar? Keep reading it gets worse before it gets better!
Menemshagroup.com 2.0
I went back to the drawing board and shortly thereafter I updated my web site with a new "look and feel" including nice new images and I wrote new copy to reflect our service offerings and the problems we solved. I even hired a graphic designer. I was excited and feeling good when it launched. I was proud to have a really nice, modern and professional looking web site. I also started to add CTA's to my blogs and my landing pages. My following was starting to grow because I started blogging multiple times per month but my blogging frequency was still well short of the suggested best practices by the marketing experts. Slowly I started to see my leads increase from both my blog and visitors visiting various web pages on the web site. This was getting very exciting!
I was still not learning anything new about my prospects nor could I differentiate a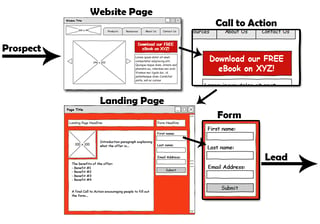 high value prospect from a low value prospect. This prevented me from recognizing how to prioritize my precious prospecting time (ironically this is the most common sales challenge we see new IT staffing sales reps struggle with). Part of the problem was I failed to properly configure my web page conversion forms which made it hard to capture high-quality leads from my website. Furthermore, leads were still just sitting at the top of the funnel. I failed to create a well-optimized conversion path to compel the prospect to learn more about Menemsha Group and continue their buying journey. So I did what any sales professional would do, I started calling the leads. What I discovered was that I had a bunch of sales people visiting my web site and downloading my ebooks and reading my blogs because they found my free resources extremely helpful in their sales efforts. That was great news as our goal is to educate our clients but what I also discovered was A.) most of my leads were either not in the market for sales training or B.) they didn't have the authority to make the decision.
Ultimately the Menemsha Group 2.0 investment was a failure because I failed to target to the right buyer persona's and I failed to offer visitors a conversion path. Instead I had a bunch of leads but no effective way to market to them and no way for determining if they were interested (high value lead) in learning more about Menemsha Group and our offerings and I had no way of moving my prospects down the funnel in an automated way (without making physical phone calls) But I had a really professional looking web site!
Menemshagroup.com 3.0 Early Adopter of Inbound Marketing
I saved my money and about 12 months later I did another web site re-launch, my third in as many years. Only this time I took a different approach. I had finally learned that in order to consistently drive leads to your website, effectively nurture those leads and convert them into customers you need software-a content management system-to automate those processes and capture the data for you. And in order to attract visitors to my web site organically through search engines like Google and the blogsphere I needed my web site to be set up like a "hub." Simply launching and relaunching a web site was doing nothing to help me scale my business. For the first time I wasn't overly consumed by the thought and idea of having a really cool "look and feel" to my web site but instead focused on the guts or the "back end plumbing" of the site. After talking with many marketing firms and consultants (I came close to shelling out $45K just for the new design) I decided to go with a relatively new start-up at the time called Hubspot.
Again, I redesigned the site but the big change and the big investment was putting my web site on the Hubspot platform. I did this because I wanted to have control over authoring, editing and publishing my web pages and blog without having to rely on a web designer or web master to make even just small edits. I also did this to make sure my web pages would be SEO optimized and to take advantage of the automated email lead nurturing workflow. Now my prospects could continue to hear from and my ideas and best practices while I was out on the road speaking at a conference or hosting a training workshop. Finally, dare I say, my prospecting efforts could become scalable. Close…but not yet.
As soon as I got my web site running on Hubspot I started to blog much more frequently and I started to roll out the eBooks. At this point I had a couple thousand people in my database and it continued to grow but the thorn in my side continued to be my lack of knowledge on my leads and converting those leads. I would call on prospects who had downloaded multiple pieces of premium content and who had read our blog posts only to discover they were not a decision maker or they were not in the market for our services. I thought, how could that be given everything they've downloaded? I was frustrated but I knew there had to be better way, a smarter way to manage leads through the sales funnel in an automated way so that when we make a sales call we're calling prospects who actually wants to hear from Menemsha Group. It turns out, I was finally right! There is a better way.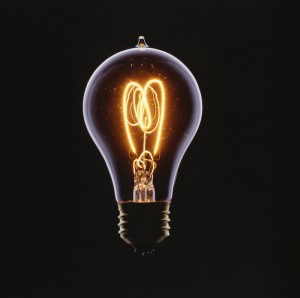 This is when I met Dave Orecchio (reach out and introduce yourself, he is awesome). I met Dave at a Hubspot customer event and told him my situation. He told me I needed a content strategy. Dave went on to explain to me that "a content strategy is a blueprint for growing your business and a sales roadmap for success by capturing the steps your prospects go through from just getting to know you to trusting you with a purchase. Your content strategy maps out the steps they take to purchase your product or service-and then you build content that compels them to move through those steps." This was my "Aha" moment!
What I had was a sales funnel with indigestion. My funnel was full at the top but nothing was really moving down the funnel and only a few deals were coming through each month at the bottom. I had no content strategy and I certainly had not provided my visitors with a path for them to follow and convert on my website that mirrored the journey they take for evaluating and purchasing sales training.
What I Did Next & How This Impacts Your Marketing Investment
I mapped my premium content (eBooks, white papers, webinars) to the steps of the buyer's journey. Each piece of content has been catalogued and mapped to either the Awareness stage or Consideration stage. Next, I set up automated lead nurturing emails based on the stage of the buyer's journey. All leads who currently reside in the Awareness stage receive our Awareness stage automated email lead nurturing workflow and those in the Consideration stage receive the corresponding lead nurturing emails. Different lead nurturing emails based on where the buyer resides in their purchasing process, makes sense right?
Remember all of those leads I had sitting at the top of the funnel going nowhere? I built smart forms that incorporate progressive profiling to capture deeper intelligence on my leads. This allowed me start collecting all kinds of relevant information such as team size, company size, sales challenges and so forth. Now I just needed a way to organize all of my leads so I could prioritize them properly and call on the hottest leads first. In other words, I couldn't tell if one lead was more open or "sales ready" to receive a phone call from Menemsha Group from the next. To resolve this issue I implemented lead scoring and let me just say, it is AWESOME! To do this.
Now we know which leads are actually ready to receive a phone call from Menemsha Group based on the lead scoring methodology we implemented with a lot of help from our friends from IMR. Many of those leads, 40% have now been compelled to take the next step in their buying process (move from awareness stage to consideration stage) and another 15% have moved to Decision stage and the numbers continue to grow as well roll out new content for the different stages of the buyer's journey. The best part is our prospects are moving on their own, without any involvement from Menemsha sales or marketing folks. They're progressing through the sales cycle based on all of the content we have written and continue to write. Creating content, unlike making a sales call is scalable. When I post a blog or ebook, thousands of prospects can read it. When I make a sales call only one prospect can hear me.
Conclusion & Next Steps
My problem was no different than the problem staffing leaders face, investing in "one-time" marketing projects that fail to deliver repeatable, sustainable growth. Notice that my marketing solution failed to even once touch on the topic of web site design or the "look and feel" of a web site? That's not an accident. Those are important aspects that I will cover in a future blog but the point is, if you're going to invest in marketing, you need to start with a strategy. Updating the design of your web site or the copy and content on your web site will do nothing to improve the health of your sales funnel or increase new accounts or revenue.
Now you may be thinking to yourself "that's how people buy training services but that is not how corporate America buy's staffing services." To that I say, ask yourself the following questions:
Do your prospects and customers use Google and other search engines?

Do your prospects and customers face challenges running their business, teams and departments?

Do they search for solutions to their problems online (hint: everyone does)!

Can your service offerings help them solve those challenges? (of course they can)
To do do marketing right and ensure you don't waste your marketing investment but instead maximize your ROI requires careful and thoughtful planning including a strategy.
How are you investing your marketing dollars? What sorts of investments are you considering making to increase market share, grow revenues and open new accounts? Please share your thoughts in the comments section below.
About Dan Fisher
I'm Dan Fisher, founder of Menemsha Group. Over 400 IT staffing firms including thousands of sales reps and recruiters apply my sales methodology including my scripts, playbooks, job aids, tools and templates, all of which is consumed from our SaaS based sales enablement platform and our mobile application. I've coached and mentored hundreds of sales leaders, business owners and CEO's, and I have spoken at a variety of industry events including Staffing World, Bullhorn Engage, TechServe Alliance, Bullhorn Live, Massachusetts Staffing Association, and National Association of Personnel Services. Since 2008 I've helped IT staffing organizations quickly ramp up new hires, slash the time it takes to get new reps to open new accounts and meet quota, get more high-quality meetings with key decision makers and help leaders build a scalable sales organization. My training and coaching programs are engaging and highly interactive and are known to challenge sellers to rethink how they approach selling. Ultimately, I help sellers increase productivity, accelerate the buying process & win more deals.