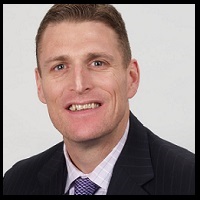 How to Design Your New Hire On-Boarding & Training
This blog is part four of a six part blog series that shares the steps to building and deploying a best in class new hire on-boarding and training program as presented (and including video) at Bullhorn Engage 2016. You can read part one here and part two here. Here you can read part three. In this fourth installation of this blog series I share how and why you need to build your new hire training and on-boarding program in modular components
The number one question IT staffing sales leaders and owners ask of us when considering new hire training and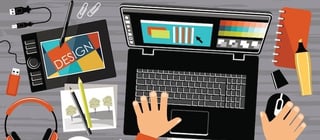 on-boarding is "how long will it take my reps to get through training?" While I can certainly understand and appreciate why sales leaders and owners ask this question, it unfortunately is the wrong question to be asking. The most common reason new hires struggle with ramping up to meet their quota is because of this focus on "speed to completion." New hires are being force-fed information through a fire hose and expected to be able to apply the information and execute on the battle field. Unfortunately that is not how people learn. Instead, the question IT staffing sales leaders and owners should be asking is "how long will it take for my new hire to sell at the same proficiency as a tenured top performer?"
Your new hire training program should be designed in such a way that all employees (by position) receive and experience the exact same training cirriculum. Consistency in your training program is what will deliver predictable results. By predictable I mean when your new sales rep hits the phones whether he or she is in your L.A. office or N.Y office they will follow the same sales process and apply the same consistent message as all of your other reps across all of your other locations and you will know exactly what sort of results to expect from them because they have been through the same training program as your previous new hires.
When companies fail to train their new hires in the same consistent manner (often the case with shadow training and when training is left up to each individual market leader or manager) you often have ten reps selling ten different ways because they are all trained slightly differently. Not only does this model fail to scale but is far more difficult to track and measure results and identify what is working and what is not working. This is where the unpredictable results come into play. Inconsistent training delivers inconsistent results. In fact, we've seen groups of employees go through new hire training with their employer but delivered by different people and in different formats that a different set of metrics all together need to be applied to each group in order to effectively track the success and impact of the training. In other words, applying the same set of metrics across all groups simply wouldn't make sense because there is a such a large discrepancy in the training cirriculum each group received. These inconsistencies is what kills growth!
When it comes to designing your new hire on-boarding program keep it simple. Focus on teaching one skill at a time. A common mistake for managers is to want to teach new hires sixteen things at once or even three things at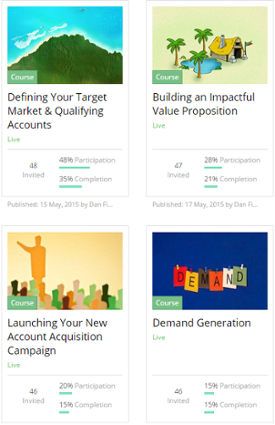 once. Don't make this mistake as it will only confuse the new hire, slow their development and frustrate the manager and/or person delivering the training. Instead create a modular, milestone based program like the one you see ito the right.
In the illustration to the right you see four separate classes, each class focuses on one specific aspect of the sales process or sales methodology. What makes it modular and milestone based is the learner must complete the classes in chronological order. Learners can't jump ahead nor can they take multiple classes simultaneously. Additionally each learner must pass a certification exam in which they demonstrate that they posses the necessary knowledge and acumen of the material before they can move onto the next class in the series. Completing each course indicates to the trainer and/or sales leader and learner which milestones have been completed in their development plan. With this insight, sales leaders have the data they need to properly set and manage expectations around what they should and should not expect from their sales rep. Applying this design methodology to your new hire training program enhances the learner experience because it is clear to them what training they have completed and accomplished, how well they understand and can apply the material and what areas they need to focus on for improvement. This improves the overall engagement and adoption of the training material which accelerates new hire ramp up time including time to meet quota.

About Dan Fisher
Dan Fisher is founder and owner of Menemsha Group, a provider of sales enablement solutions dedicated to helping IT staffing firms improve win rates, shorten their sales cycle, and increase revenue per sales rep. Since launching Menemsha Group in 2008, Dan has consulted with over 200 IT staffing firms and has invested over 5000 hours coaching IT staffing sales reps. He's authored is his own proprietary sales methodology and has previously spoken at Staffing World, TechServe Alliance and Bullhorn Live 2012. Prior to launching Menemsha Group, Dan spent 16 years in the IT industry running local, regional and national sales teams. Dan worked for Kelly Services, Oracle Corporation and Alliance Consulting. Dan currently resides in Boston, Ma.