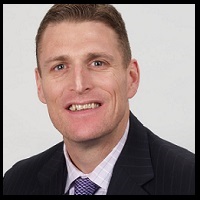 Can Your New Hires (Sales Reps) Effectively Engage Prospects?
Seems like a silly question, right? But seriously, do your new hires (sales reps) know how to engage prospects in an intelligent and meaningful conversation? Most likely you're chasing an aggressive annual goal and the only way to hit that goal is to get strong contributions from your new hires. Your concern of course is, how long will it take before they "get it," before your new reps are prepared to hit the phones and engage prospects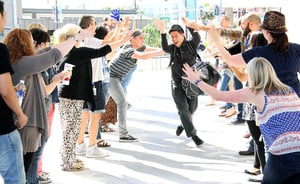 and customers in an intelligent conversation. The most common reason why sales leaders and CEO's miss their number is because their new hires take too long "ramping up." What happens is your sales reps are literally learning about their customers on-the-fly, through live sales calls. And you don't need me to tell you how hard it is to get today's sales rep to pick up the phone let alone engage in meaningful dialog! To hit your revenue and gross profit targets you must eliminate this "learn on the fly" approach and start teaching your sales reps who your customers are and how to speak with them from DAY ONE.
Having worked for both small start-up's and large organizations I've experienced both ends of the new hire onboarding and training spectrum. Large organizations tend to have in-depth training programs for their new hires. The problem with their training programs is they focus too much on internal corporate systems training and business process training unrelated to sales. Enjoyable content, but not useful for a new sales rep trying to hit a sales quota. Younger companies including startups and those in expansion stage rely on shadow training. You can read my blog on Why Shadow Training is Useless in the IT Staffing Business.
Neither of these approaches properly prepare sales reps to hit the phones and have productive conversations. For a new hire to quickly gain traction they need to be trained on who their customers are, how they buy and how to talk to them. More specifically they need to understand the different buyer personas of the customers they will be calling on and how to personalize their message to each persona type. Each buyer persona type has their own set of goals, objectives, challenges, objections and disposition towards IT staffing and service companies. To be successful selling to today's corporate buyer your new hires MUST be taught this and trained on how to tailor their messaging. This means your new hire onboarding program must be customer centric.
Buyer Persona Training
This is BY FAR the most overlooked portion of new hire sales training programs. Your reps must know the following:
Who are my ideal buyers by ROLE (C-Level, VP, Director, Manager)
Who are my ideal buyers by JOB FUNCTION (SQA, PMO, Application Development, Data Center, Finance, etc.)

What are their goals, objectives, success factors and job responsibilities?

What are their common objections and concerns (and rebuttals) for engaging IT staffing firms?

How are they measured and evaluated in their role?

Social engagement. Where do they go for industry/job function related news and best practices? In short, where do they hang out online?
Before your sales reps hit the phones, they should have a full understanding of the bullet points listed above.
Buyer Journey Training
Today's IT hiring manager including corporate buyers don't want to be prospected, pitched or closed. These steps and activities add zero value. What your prospects do want however and are looking for is additional information about the problems they're trying to solve and the goals they're trying to achieve (if you take the time to develop buyer personas you'll know what their goals and challenges are). Your prospects also want additional information about your services that can't be found online. They want your ideas and insights. As a sales professional, you can tailor your messaging to the context of the stage of the buying journey or purchasing process in which the buyer resides.
Most B2B buyers (and consumers for that matter) go through four basic stages before buying a product or service. They include: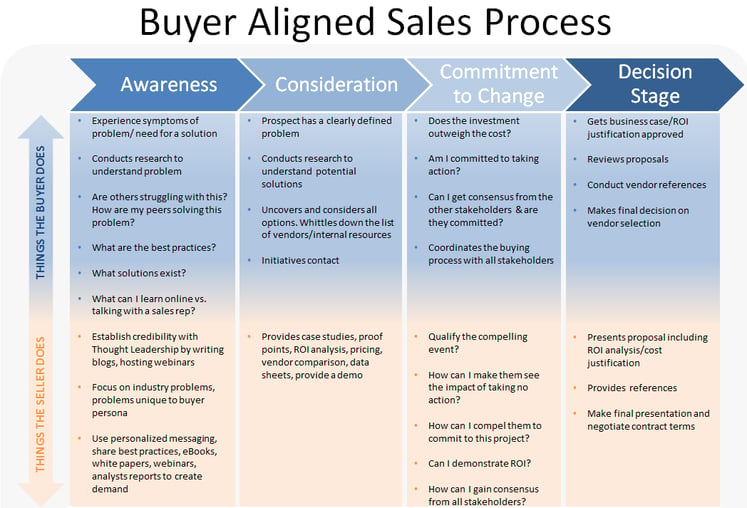 The point of all this is your sales reps, especially your new hires need to be trained on how your ideal buyers would go about purchasing or procuring your service offerings. Sales people must understand how their customers buy. Having recognition of where the prospect resides within their buyer journey or purchasing process allows the sales rep to stay in sync with the prospect and deliver the right content, messaging and information. It enables the sales rep to be truly consultative. This is what your new hires must be trained on order to effectively engage prospects in a meaningful conversation.
If your new hire is making MPC (most placeable candidate) calls to prospects all day long but the prospects they're calling on are not in the decision stage, well, it's a big waste of time. Not only that, all those buyers find your sales rep annoying because all he or she is doing is pitching to them. They're doing nothing to add value. Is this really how you want your sales team selling? Is this the reputation and brand you want to develop in the market place?
Your onboarding program must be customer focused.
Getting Started
You're probably wondering, how do I get started? I suggest you start by interviewing your customers to gain a deeper understanding of their personas and their buyer journey. You can take what you learn from those interviews and begin to incorporate it into your new hire onboarding and sales training program. I assure you, this will make a huge difference in accelerating time to quota attainment for your new hires.
What steps are you taking to educate your new hires about who your customers are and how they buy? Let's start a conversation in the comments section below.

About Dan Fisher
Dan Fisher is founder and owner of Menemsha Group, a provider of sales enablement solutions dedicated to helping IT staffing firms improve win rates, shorten their sales cycle, and increase revenue per sales rep. Since launching Menemsha Group in 2008, Dan has consulted with over 200 IT staffing firms and has invested over 5000 hours coaching IT staffing sales reps. He's authored is his own proprietary sales methodology and has previously spoken at Staffing World, TechServe Alliance and Bullhorn Live 2012. Prior to launching Menemsha Group, Dan spent 16 years in the IT industry running local, regional and national sales teams. Dan worked for Kelly Services, Oracle Corporation and Alliance Consulting. Dan currently resides in Boston, Ma.