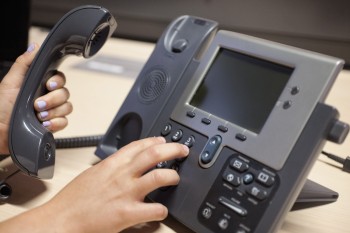 A few weeks ago I was coaching a sales rep where I was jacked into a headset and could hear the entire phone call including the prospect on the other end of the line. Unfortunately the call went horribly wrong. The prospect answered and the sales rep instantly froze and fumbled his way through his introduction. The prospect then asked a few questions where the sales rep stuttered a very unconfident response in which the prospect responded with "I'm all set, thanks for the call." Click.
Afterwards, I asked the rep what he thought had happened and why he thought the call deteriorated so quickly. The reps response, "I didn't expect the prospect to answer my call. I was caught off guard." Say what? Come again? What do you mean you didn't expect the prospect to answer the phone? Mind you, this was a hot prospect the sales rep had been pursuing for months.
This may sound crazy, but unfortunately I see this behavior with IT staffing sales people a lot more often than you think I would. Sales people consciously neglecting to prepare for sales calls.

Accessing decision makers over the phone has never been more difficult (just imagine, phone lines will be gone in a few years. What will we do then?!). In fact, accessing decision makers is by far the biggest frustration I hear from sales people and sales managers. But you know who else is frustrated with these sales calls? Your prospects, that's who. Why? According to a study by the CEB, only 36% of sales professionals are prepared for sales calls. Those numbers are absolutely staggering!!

Have you ever received an unsolicited sales call? Better yet, have you ever received an unsolicited sales call from an unprepared sales person who knows nothing about you and your business? I have and I have to say, they're pretty annoying and absolute waste of time. This is another blog topic in and of itself! The long and short of it is, I'm actually embarrassed for these people.

Knowing how incredibly difficult it is to reach IT decision makers (I find it takes roughly 30 raw dials to reach a decision maker), doesn't that place an even higher premium on sales call preparation and the ability to execute your sales calls? I certainly think it does. Heck, you have one shot to really knock their socks off! Who knows how long it will be before you get that IT hiring manager on the phone again.

Why then are only 36% of sales professionals prepared for their sales calls? Here are a few theories.
Sales managers rely too heavily (and in many cases exclusively) on activity as their primary means for measuring sales success (call volume) and fail to measure outcomes. These sales managers continue to apply pressure on their sales people to "close" face to face meetings from sales calls. This actually drives aggressive and transactional sales behavior where sales people make their personal agenda (landing the meeting) the priority of the call. Thus, they don't prepare properly because their goal is a meeting and they need to secure "X" number of meetings to keep their manager off their back. Prospects however see this from a mile away, detest this behavior, clam up and end the call. Everyone looses in this scenario.

Sales people are not clear on how to prepare for sales calls. Sales people have not been taught how or shown how to properly prepare for a sales call.

Some sales people are just flat out lazy. Yes, I said it. Be honest, it is far more easier to stick with the status quo and simply "wing" your calls then it is to put in the proper time and effort in preparing for your sales calls.
If you are a sales leader or business owner you have to ask yourself, how much is this costing me and my organization? More importantly, what are you doing to ensure your sales team is prepared for their sales calls? Below are four tips on how to prepare for your sales calls.

Pre-Call Planning Research

The real key to getting good management level meetings and having meaningful conversations with IT hiring managers including executives is to have good situational and functional knowledge of their business. This knowledge can be developed through personal experience, training, reading, research and planning and speaking with other people in the account. You should also be checking their Linkedin, Twitter , Facebook and other social media pages for additional information.
Prior to making a sales call sales people should try to uncover their buyer's persona. A buyer's persona is data including critical issues that will be relevant to your conversation. Ideally, you want to try to uncover any of the following about your prospects before making the cold call:
Role & Responsibility including level of seniority
Career path
The problems they face day to day given their role
Main information sources (what do they read, where do they do their research online)
Industry drivers/macro trends
Their blog
Shared connections
This research should only take you a few minutes, not hours.
Impress Your Prospect, Demonstrate Credibility
The quickest way to turn your prospect off and create objections is to talk about yourself, your company and your service offerings. Do NOT talk about your company accolades and why you think you are so unique. The real key to building credibility with your buyers and compelling them to open up and speak with you is by sharing with them what you know about them. You will impress your prospects and clients by demonstrating what you know about them personally and their company and/or department. Tell them how much time you spent researching their company, what you learned and why it is so important to you to build a relationship with them and their firm.
What's in it For Me?

When you make a sales call, especially a cold call, your prospect is thinking:
"Is this sales person worth my time? What will I get out of this call if I take 5 minutes to speak with this sales person?"
You better have a good answer to this question. To do so, you need to come ready and prepared to share ideas and insight with your prospect that would be of value to him or her. If you understand your prospects persona, you will know what type of information they will be interested in. In general, corporate buyers are really interested in learning about market trends and how their business or department stacks up against the competitors and other peer organizations. They're also interested in understanding how you approach problems with your customers and how you impact your customer's business. You need to come prepared with these stories and ready to share lessons learned.
The Art of Questioning
In addition to being prepared and understanding exactly what it is you will say to open your call, you also need to come prepared with your top 10 open ended probing questions. Think about what it is that you really want to get out of the conversation. The answer to that question will tell you what questions you need to be asking. Just make sure you ask them in an open-ended manner. The quality of prospects response will vary greatly if you asked close-ended questions vs. open ended questions.
So don't be part of the 64% of sales people who are not prepared for sales calls. You only get one chance, so take full advantage of it!